Wednesday, December 22nd, 2021

Posted by Jim Thacker
Intel becomes latest Blender Corporate Patron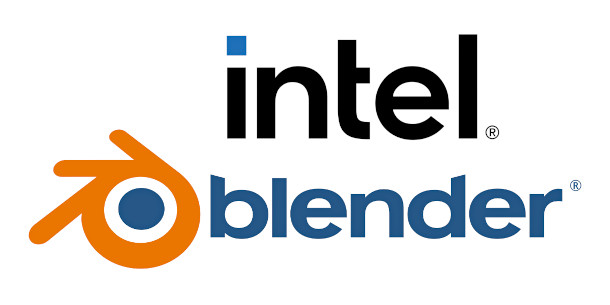 Intel has become the latest Corporate Patron of the Blender Development Fund, increasing its financial commitment to development of the open-source 3D software to at least €120,000/year.
The news means that all of the major CPU and GPU manufacturers – AMD, Apple, Intel and Nvidia – are now members of the Blender Development Fund's highest standard tier.
Increasing financial support for Blender development year on year
Intel first backed the Blender Development Fund in 2019, initially at the €12,000/year Corporate Silver level, increasing its financial commitment each year since then.
Its new Corporate Patron status guarantees a contribution of at least €120,000/year, equivalent to the salaries of two full-time developers.
At the time of writing, the fund provides over €1.8 million/year for development of Blender, far in excess of its original goal of covering the salaries of 20 core developers.
The news also means that all of the major CPU and GPU manufacturers are highest-tier backers of Blender, Nvidia and AMD having become Corporate Patrons in 2019, with Apple following this year.
Intel open-source graphics technologies are already integrated into Blender
Intel has been responsible for a number of key initiatives in open-source graphics in recent years, beginning with CPU ray tracing kernel library Embree and ray tracing middleware OSPRay.
Newer projects include CPU denoising library Open Image Denoise (OIDN) and volumetric rendering library OpenVKL, now part of the firm's wider standards-based cross-platform oneAPI specification.
Embree and OIDN have both been incorporated in Blender for several years, with the Blender Foundation's announcement noting that it was "look[ing] forward to further work with Intel's open-source initiatives".
"We share the Blender Foundation's mindset to make world-class visual technologies available to everyone through open-source software and open standards," said Intel SVP Raja Koduri.

Read the Blender Foundation's announcement that Intel is now a Corporate Patron