Thursday, July 30th, 2020

Posted by Jim Thacker
Microsoft becomes latest tech giant to back Blender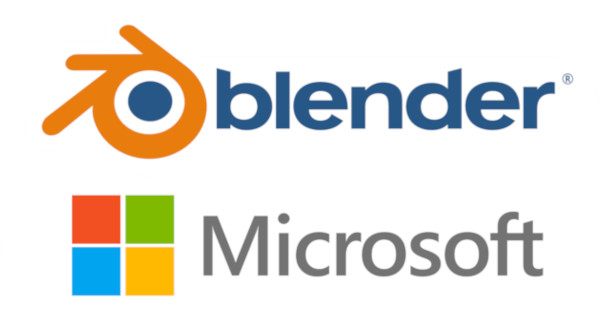 Microsoft has become the latest major tech firm to back the Blender Development Fund, joining Nvidia, AMD, Intel and Epic Games in funding development of the open-source 3D software.
According to Blender Foundation chairman Ton Roosendaal, Microsoft did not place any restrictions on how its Corporate Gold sponsorship of €30,000/year should be used.
Microsoft joins Nvidia, AMD, Intel, Google and Epic Games in backing Blender
Microsoft's donation makes it the latest major technology company to fund Blender development since Epic Games' watershed $1.2 million donation to the Blender Development Fund last summer.
Although it isn't on quite the same scale – or that of Nvidia and AMD's recent €120,000/year donations – it comes without strings attached.
While Epic Games' donation was requirement-free, Nvidia and AMD's contributions were accompanied by statements that the money would be used to keep their technologies "well supported for [Blender] users".
In contrast, Blender Foundation chairman Ton Roosendaal tweeted that "Microsoft did not mention any requirement [for how we] spend the contribution."
Instead, the money will go towards general staff recruitment, and is equivalent to half the salary of another full-time Blender developer.
At the time of writing, the development fund stands at $108,271/month, down fractionally from the time of AMD's donation last October, and still just shy of the "ultimate goal" of funding 20 core Blender developers.
Blender Foundation has also announced eight further full-time positions for which it aims to recruit, ranging from UI designers and backend web developers to financial and industry relations roles.
Used as part of Microsoft's research into artificial intelligence models
According to the Blender Foundation's blog post, Microsoft "makes use of Blender to generate synthetic 3D models and images of humans that can be used to train AI models".
Microsoft also maintains a number of its own open-source projects, primarily resources for academics working in fields including machine learning, cloud computing, visualisation and cryptographty.
Read Blender Foundation's announcement that Microsoft has backed the Blender Development Fund