Monday, July 15th, 2019

Posted by Jim Thacker
Epic Games donates $1.2 million to Blender development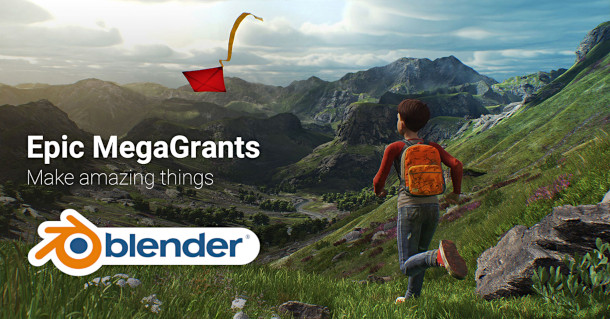 Epic Games has awarded the Blender Foundation, the nonprofit organisation that oversees Blender's development, a $1.2 million cash grant, to be delivered over the next three years.
The money, which has been awarded from Epic's new Epic MegaGrants program, will be used to fund Blender's Professionalizing Blender Development Initiative.
New grant nearly doubles development funding for Blender
This isn't the first time that Epic has funded Blender development, but it is by far its biggest donation.
Before the grant was announced, the crowdsourced Blender Development Fund stood at €37,538/month (just over $42,000/month), meaning the award almost doubles development Blender funding at a stroke.
Roughly a further €40,000/month (around $50,000/month) is donated through Blender Cloud, but the money is primarily used to fund Blender Institute's open-source animation projects.
Blender Foundation chairman Ton Roosendaal said that the grant money will form "a significant investment in our project organization to improve on-boarding, coordination and best practices for code quality".
"As a result, we expect more contributors from the industry to join our projects."
One of the biggest awards from the Epic MegaGrants program to date
The grant is the highest-profile award to date from Epic MegaGrants, the $100 million "no strings attached" funding program that Epic Games announced during its keynote at GDC 2019.
Previously, the only grant from the program that we had seen announced publicly was to provide tools developers with free Magic Leap One: Creator Edition mixed reality headsets.
Grants from the fund are aimed at people "doing amazing things" with Unreal Engine, Epic's popular game engine, or "enhancing open-source capabilities for the 3D graphics community".
"Open tools, libraries and platforms are critical to the future of the digital content ecosystem," said Epic Games CEO Tim Sweeney. "Blender is an enduring resource within the artistic community, and we aim to ensure its advancement to the benefit of all creators."
Read Epic Games and the Blender Foundation's official press announcement
Read more about Epic MegaGrants on the Unreal Engine website