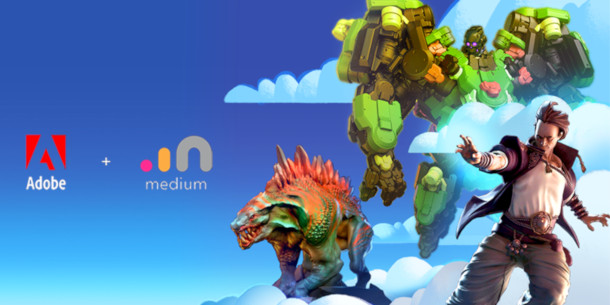 Adobe has acquired Medium, Oculus's VR modelling tool, from Oculus parent company Facebook. The financial terms of the deal have not been disclosed.
A virtual reality sculpting and painting tool for users of Oculus hardware
Launched in 2016, Medium enables users to sculpt and paint 3D models in virtual reality, using the Oculus Rift headset and Oculus Touch controllers, then export them in OBJ or glTF format.
The software was initially updated regularly, with a major 2.0 release in 2018, although updates stalled this year, with nothing since Medium 2.3 in May.
'Currently' still free, but more developments next year
Oculus's blog post announcing the news doesn't go into a lot of detail about the acquisition: it just says that the app is "currently" still free with its Oculus Touch controllers.
The post advises Medium users that "nothing is changing for you today", but that they should expect "more features, improvements, and other developments coming from Adobe in 2020".
Medium team members to move to Adobe to work on 'the next generation of 3D tools'
According to this tweet, "several members" of the Medium team will be moving to Adobe.
In Adobe's own blog post on the acquisition, the company's VP for 3D and Interactive, Sébastien Deguy, states that they will work with the company's Substance team on "the next generation of 3D tools".
Deguy – previously CEO of original Substance tools developer Allegorithmic before Adobe acquired it earlier this year – comments that Adobe's "redoubled investment … in the 3D and AR space finally allowed us to join forces and bring our complementary talents together".
Adobe has not acquired Medium's sister product, virtual reality painting and animation tool Quill, which got its own 2.0 update earlier this year.
Read Oculus's blog post about the acquisition
Read Adobe's blog post about the acquisition
Tags: 3D painting, acquisition, Adobe, buyout, Facebook, Medium, modelling, Oculus, Oculus Medium, Quill, sculpting, Sébastien Deguy, Substance, virtual reality, VR