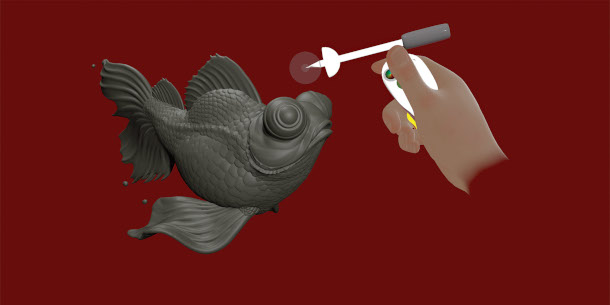 Adobe has released Medium 2.4, its first update to the virtual reality sculpting and painting tool since acquiring it from Facebook last year.
The update adds features intended to make it possible to sculpt more complex assets within the software, including the option to freeze sculpting layers, and to import an existing sculpt into a new session.
The software has also now been rebranded 'Medium by Adobe' rather than 'Oculus Medium'.
Medium: sculpt and paint 3D forms in virtual reality
First released in 2016, Medium is a dedicated VR sculpting and painting package for users of Oculus headsets, capable of exporting models to DCC applications in OBJ or FBX format.
As you might expect, the toolset is simplified compared to that conventional sculpting packages like ZBrush, but includes a basic set of tools for creating 3D forms, plus over 300 readymade shapes, or 'stamps'.
Objects can be arranged on layers, and can be manipulated by operations like Duplicate, Merge and Flip.
The painting toolset is similarly condensed, but features sliders for brush size, opacity and hardness.
The software is used by some well-known concept artists and illustrators, with Marc Simonetti describing it in a recent review on the Oculus store as "easily one of the very best" sculpting apps.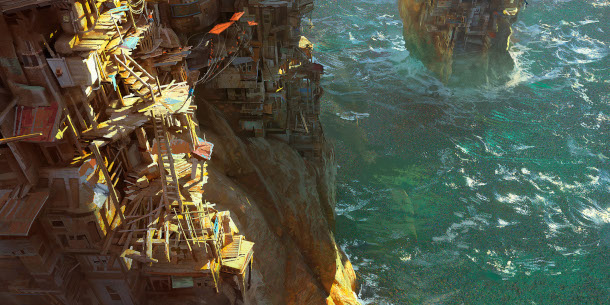 An image created by Marc Simonetti, using assets sculpted in Medium.

New in Medium 2.4: freeze sculpt layers, or import existing sculpts into a new session
Medium 2.4 adds features intended to make it possible to create much more complex assets within VR.
That includes the option to freeze sculpting layers: when a layer is locked, the voxel data is removed from memory without changing the rendering mesh, reducing the likelihood of out-of-memory errors.
The voxel data can be restored to memory by unlocking the layer again.
Users can also now import another sculpt file into their current sculpt session, which brings in all of its sculpting layers, meshes, images, lights and transform nodes.
New world space camera for screenshots, better FBX export
Other key changes include the addition of a world space capture camera to Medium scenes, which can be used for screenshots and video captures of sculpts.
FBX export has also been improved: meshes now export with the specified pivot, along with vertex position data, vertex colour, normals and a single UV set, although texture maps and materials are not yet supported.
In addition, Medium processes now continue when you take off your headest, meaning that you don't have to stay in virtual reality until the export process completes.
Pricing and availability
Medium 2.4 is available free via the Oculus Store. You'll need an Oculus Rift or Rift S and Touch controllers.
Adobe also recommends a workstation with at least an Intel Core i5-7400 CPU, a Nvidia GeForce GTX 1060 or AMD Radeon RX 490 GPU, and 16GB RAM.

Read an overview of the new features in Medium 2.4 on Adobe's blog
Read a full list of new features in Medium 2.4 in the changelog on the Oculus website
Tags: 3D painting, Adobe, Concept Art, download, Facebook, FBX, FBX export, Featured Articles, free, freeze sculpt layer, illustration, import sculpt, Marc Simonetti, Medium, Medium 2.4, Medium by Adobe, modeling, new features, OBJ, Oculus, Oculus Medium, Oculus Rift, Oculus Rift S, Oculus Touch, sculpting, sculpting layer, system requirements, virtual reality, VR, VR controller, VR headset, world space capture camera