Quill – Paint and Animate in VR

Today we released our biggest Quill update to date: Animation tools! Our mission with Quill has always been enabling creative people to make beautiful, rich, three-dimensional drawings in VR. Starting today, artists can bring those drawings to life directly in Quill for the first time with new animation tools and VR-native workflows, including support for free frame-by-frame redrawing, copy-and-re-pose animation, an animation brush, and more. These tools open the door for a whole new kind of storytelling, with VR characters who move and perform in scenes and environments that are more alive than ever. Inspired by the early hand-drawn animation of the 1920's, but powered up with modern technology and native VR workflows, Quill animation brings a new level of freedom to artists in this rapidly emerging medium. We've already seen some incredible artwork created with Quill, including the Emmy-nominated Dear Angelica. But with today's new animation tools, production time for projects like this will be slashed dramatically. While testing the tools, our resident artist, Goro Fujita, was able to complete his animated short film 'Beyond the Fence' in just three weeks, an undertaking that could have lasted over a year with traditional 3D animation software. We can't wait to see what VR artists will create with the power of these new tools in their hands. And this is just the beginning. We're working on many more Quill updates and features, including the ability to discover and watch animated Quill stories in Facebook Spaces with friends. People naturally want to share the experience of enjoying art with someone else, and social VR will open the door to a brand new kind of co-immersive, 3D entertainment. Today's Quill animation tools are one step toward that future as they empower artists to push the boundaries of VR-native storytelling — to invent a new kind of narrative that's not just compellingly watchable, but fully immersive and perfect to be shared together. Artists — Please share your Quill creations with us, and you can find more information at the links below:Quill website: https://quill.fb.com/Details on today's new features: https://quill.fb.com/featuresGet Quill: https://www.oculus.com/experiences/rift/1118609381580656/Share your Quill art: https://www.facebook.com/groups/virtual.animation/about/ , https://www.facebook.com/groups/virtual.paintings/about/

Posted by Quill on Thursday, February 8, 2018

Facebook has released Quill 1.4, the latest version of its virtual reality illustration tool designed for use with the company's Oculus Rift headset and Oculus Touch controllers.
The update, described as the biggest to the software to date, adds a new animation toolset, including both animation layers and animated brush strokes, and the option to export the results in Alembic format.
Paint in 3D space using an Oculus Touch controller
On its first beta release in 2016, Quill provided a condensed version of the tools from a standard 2D paint package, translated for use in 3D space.
Its brushes generate a range of stroke types, with support for colour, opacity and thickness, plus basic pressure sensitivity via the trigger of the Oculus Touch.
Once created, strokes can be repositioned, scaled, duplicated or erased, and there is also a layers system for organising the elements of a VR drawing, complete with a basic range of blending modes.
Subsequent updates have added the option to import 3D models in OBJ format (you can also export FBX and Alembic files), import still 360-degree images to use as backgrounds, and add 3D sound.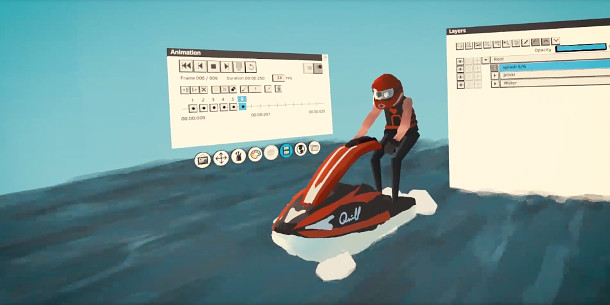 New in Quill 1.4: support for frame-by-frame animation
To that, Quill 1.4 adds a basic animation toolset, making it possible to animate either layers or brush strokes.
It's a traditional frame-by-frame workflow, which Facebook pitches as a benefit – it doesn't require any "CG technical knowledge, such as rigging or curve manipulation" – although clearly, that's open to debate.
However, Facebook says that the toolset made it possible for resident artist Goro Fujita to complete upcoming short Beyond the Fence inside three weeks: "an undertaking that could have lasted over a year with traditional 3D animation software".
If you do want to get them into tradtional 3D software, the animated paint layers created in Quill can be exported in Alembic format, preserving motion curves and timing.
Sculpts created in sister application Medium can also now be imported in OBJ format, retaining vertex colour information, for use as environments – as yet, you can't animate them directly.
New drawing options and better overall performance
Other changes in Quill 1.4 include a new round capped brush type, auto width and taper options for strokes, and a brush volume grid to help with depth perception when drawing in 3D space.
Under the hood, performance and memory use are improved on drawings with a lot of layers, although Facebook doesn't put any figures on that; and video captures from Quill are now automatically stabilised.
Pricing and availability
Quill 1.4 is available now. You'll need an Oculus Rift headset and Oculus Touch controllers to use it, and the software currently comes free with Oculus Touch. Extra licences cost $29.99.
Read more about the new features in Quill 1.4 on the product website
Tags: Alembic, animation, drawing, Facebook, FBX, illustration, Medium, new features, OBJ, Oculus, Oculus Rift, Oculus Touch, price, Quill, Quill 1.4, virtual reality, VR