Blender Foundation has unveiled its roadmap for Blender over the next five years – if not the features due to be added in each version of the open-source 3D software, at least the release schedule itself.
The schedule proposes major numbered updates every two years, with Blender 3.0 due in 2021 and Blender 4.0 in 2023, and a stable Long Term Support (LTS) edition every year.
The proposed roadmap was posted by Blender Foundation chairman Ton Roosendaal on the Blender Developers Blog, and announced in the livestream embedded above.
Blender 2.83 in May, then a year of 2.9x releases
The least unexpected – and most fully fleshed-out – part of the roadmap is the next 18 months: Roosendaal proposes wrapping up the current 2.8x release cycle, then moving to Blender 2.90 in August.
That means a stable release of Blender 2.83 – currently in alpha – in May 2020.
A work-in-progress feature list for Blender 2.83 is already available online: the highlights include a new physics-enabled cloth sculpting brush and OptiX viewport denoising.
The 2.9x release cycle – Blender 2.90 to 2.93 – will then run until May 2021, and should implement the 'Everything Nodes' project, at least in part.
The work, currently in progress, would give Blender users a fully procedural node-based workflow similar to that of tools like Houdini for many tasks, particularly for authoring particle systems.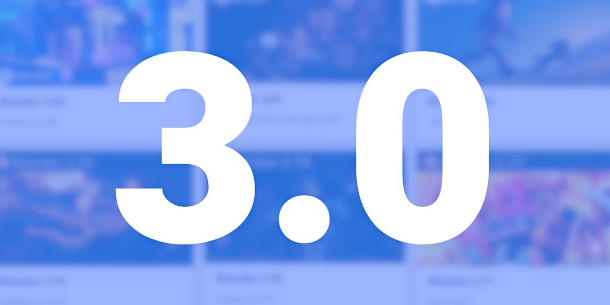 Blender 3.0 in August 2021, and a switch to two-year release cycles
The biggest proposed change happens in August 2021 with the release of Blender 3.0.
That would finally end the Blender 2.x release series, which has now run for 20 years, and which began while Blender was still a commercial product.
Roosendaal then proposes a regular series of 3.x updates, with another major update, Blender 4.0, in August 2023, kicking off the next two-year cycle.
No specific development goals have yet been announced for either the Blender 3.x or 4.x release cycles.
Stable Long Term Support editions every year, starting with Blender 2.83
However, for many studios, the most significant part of the roadmap will be the introduction of a system of Unity-style yearly Long Term Support (LTS) releases.
The LTS editions, which would begin with Blender 2.83, will contain fewer experimental features and will continue to receive fixes – primarily security updates – for a two-year period after release.
The change should appeal to the growing number of studios adopting Blender as a primary 3D application, making it possible to complete large projects during the support period for a single version.
In the livestream, the LTS releases were described as being intended "for companies who want a bit more reassurance that things are going to keep working".
Both a reflection of Blender's success and a turning point in its development?
Both the LTS releases and the move to "more normal" version numbering seem to signal a shift in tone for Blender, at least in the way the software is presented to the world.
Speaking to CG Channel last year, Roosendaal said that he relished the unconventionality of releasing one of the most significant updates in Blender history with a 0.01 increment in version number.
"We could have called it 3.0, but 2.8 has a certain ring," he said.
The proposed roadmap, with its dependable, evenly spaced updates and alternation between bleeding-edge features and long-term support, reflects the growing importance of Blender within commercial CG production pipelines – but also, perhaps, marks the end of a little of that unconventionality.
Availability and system requirements
The current stable release, Blender 2.82, is available for Windows 7+, macOS 10.12+ and Linux. It's a free download. Blender 2.83 is currently available in alpha, and is due in May 2020.
Read Blender Foundation's proposed roadmap for the Blender 3.x and 4.x release cycles
Tags: Blender, Blender 2.82, Blender 2.90, Blender 3.0, Blender 4.0, Blender Foundation, download, free, long-term support, LTS, new features, open source, release date, release schedule, roadmap, system requirements, Ton Roosendaal