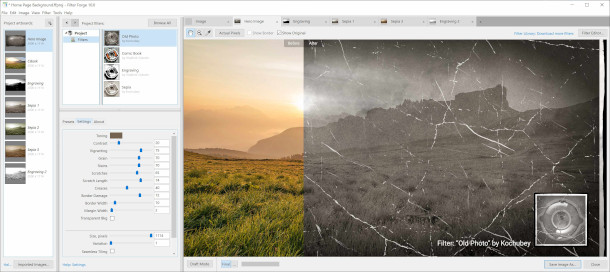 Filter Forge has released Filter Forge 10.0, the new version of its node-based tool for authoring filters for Photoshop and other 2D image-editing apps and for generating texture maps from source images.
The update makes it possible to save Filter Forge projects as editable standalone files to share with other artists, and revamps the editions of the software available, cutting prices across the board.
Create custom filters for use with image-editing software or generate PBR texture maps
Filter Forge provides a node-based environment in which users can design their own custom filters for Photoshop, Affinity Photo and other 2D image-editing software.
Users can download readymade filters from an online library of over 13,000 community-submitted examples.
The software is also capable of generating seamlessly tiling 16- or 32-bit PBR texture maps from source images, including albedo, height, normal, roughness, metallic, specular and ambient occlusion.
Output presets are available for the Unity and Unreal Engine game engines.
New in Filter Forge 10.0: save and share project files
Version 10.0 of the software introduces the option to save editable project files that can then be shared with collaborators, rather than simply exporting finished images or texture maps.
Filter Forge .ffproj Project files package the source images for a project, their dimensions, and the filters and settings applied to them.
According to the developers, the introduction of standalone marks a shift from the software's origins as a Photoshop plugin to a "document-oriented application [like] 3ds Max".
Projects are currently only available in the new Studio edition of the software: about which, more later.
New faster-rendering Draft Mode for browsing filters
Other new features common to all three editions of Filter Forge include a new Draft Mode, intended to provide a faster-rendering, reduced-quality preview when browsing filters.
It reduces the size of the preview and overrides a filter's default occlusion and anti-aliasing settings with minimum values, speeding up rendering by "up to ten times".
Filter authors also get a new Bitmap Cache component, making it possible to rasterise and cache the output of processing-intensive parts of a node graph to improve performance.
Editions of the software overhauled, prices cut across the board
The release also shakes up Filter Forge's pricing policy, cutting the price of the feature- and resolution-limited Basic edition from $149 to $59 and the price of the full Professional edition from $399 to $139.
The old intermediate Standard edition has been discontinued; and at the top of the product range, Filter Forge has introduced a new $259 Studio edition of the software.
It has the same functionality as the Professional edition, plus the new Projects system; and entitles users to two seats per licence rather than one.
Pricing and availability
Filter Forge 10.0 is available for Windows 7+ and macOS 10.12+. As well as the standalone edition, it runs as a plugin in Photoshop CC and above and, on Windows only, a range of other 2D image-editing applications.
The software is available in Basic, Professional and Studio editions, with MSRPs of $59, $139 and $259 respectively. You can find a feature comparison table of the three editions here.

Read an overview of the new feature in Filter Forge 10.0 on the product website
Tags: 32-bit, Affinity Photo, albedo, ambient occlusion, AO, Basic edition, bump, diffuse, Draft mode, effects filter, FFPROJ, filter authoring, Filter Forge, Filter Forge 10.0, filter generation, game art, game development, Game Engine, HDR, height, metallic, metallicity, new features, new price, node-based, normal, PBR, Photoshop, plugin, preview, price, price cut, procedural texture, Professional edition, projects system, roughness, save project, specular, standalone, Studio edition, system requirements, texture map, tiling texture, turn source image into texture map, Unity, Unreal Engine