Originally posted on 30 June 2020. Scroll down for news of the commercial release.
Insydium has unveiled many of the new features coming up in the 2020 public release of X-Particles, the next major update to its particle and physics simulation tool for Cinema 4D.
The update, which is due to ship in early July, adds new liquid simulation, flocking and scattering toolsets, and updates the ExplosiaFX gaseous fluid simulation system.
Out on time, but after an unusual development process
Although the update looks set to ship almost exactly a year after the 2019 public release, its development process has been anything but expected.
In March, Insydium began releasing new features in beta, the first time that it has done so, in response to its staff working from home during coronavirus restrictions.
More recently, the firm announced that the newest features were ready "sooner than we'd anticipated", and would bypass both beta access and its standard early access program for users with maintenance contracts.

Introduced in the beta: new ocean surface and flocking systems
Of the features unveiled during the initial beta period, the biggest were probably xpOcean and xpFlock.
The former is a new ocean surface system, making it possible to generate loopable animated water surfaces, with controls for wave height, spacing and direction, as shown in the video above.
The latter is a "state of the art" particle-based flocking system, making it possible to animate effects like flocks of birds and shoals of fish by applying customisable preset behaviours.
We covered them both at the time of the initial beta release, along with support for animated vertex maps and new particle blending and push apart modifiers, so check out our original story for more details.

New in the latest sneak peeks: the xpScatter scattering system
Features unveiled in the latest sneak peeks include xpScatter, a new scattering system for distributing objects like rocks, vegetation or buildings across scene geometry.
Scattering can be done by vertex, by face, by texture or by surface properties, with the resulting distribution affected by surface slope, height and curvature to mimic real ecosystems.
Users can also control the spacing of individual objects via kill and push functions, or vary their scale and rotation for a more natural-looking result.
Objects can be scattered onto animated surfaces, including those generated by the new xpOcean system, and can themselves be animated via textures, modifiers or Cinema 4D's native MoGraph effectors.

Reworked xpFLuidFLIP object improves liquid simulation
Of the existing toolsets, the xpDomain object, used for FLIP (Fluid Implicit Particle) simulation, has been rewritten "from the ground up" and renamed xpFluidFLIP.
Insydium says that the new system generates faster, more realistic liquid simulations, with new simulation settings providing more artistic control over the results.
It also offers a choice between the existing FLIP solver and a new APIC (Affine Particle-In-Cell) solver, the latter intended to better maintain the angular velocity of fluid during simulations.
You can see a side-by-side comparison of the two solvers at 01:15 in the video above: APIC generates a much more energetic solve, with more detail in splashes.
Updates to xpExplosiaFX enables upresing for smoke and fire simulations
xpExplosiaFX, X-Particles' gaseous fluid simulation toolset, also gets a "massive update".
New features include the option to upres an existing sim, increasing its voxel count, vorticity or turbulence without affecting overall behaviour, reducing look development time for detailed effects.
Simulations can also now be affected by native Cinema 4D deformers, making it possible to art direct the results by applying effects like Bend, Twist or Spline Wrap.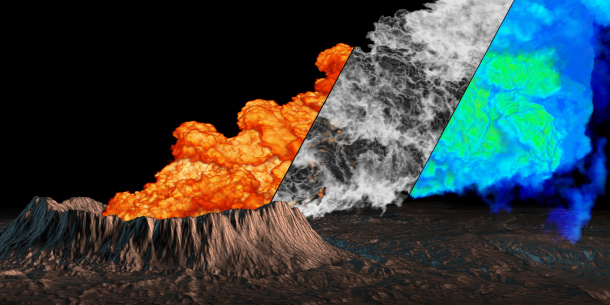 New OpenGL viewport preview: currently for Cinema 4D R14 to R21 only
The update also introduces a new OpenGL viewport display mode for previewing sims, with the option to adjust the colour and opacity of the fuel and smoke channels independently.
It is only supported in Cinema 4D R14 to R21, Maxon having introduced a new viewport architecture in Cinema 4D S22 based on Apple's Metal API instead of OpenGL on macOS.
Insydium says that it is "working hard to find a solution … and will update everyone as soon as possible".
Other changes: support for layering in xpFlowField, new intersection avoidance system
The release also updates xpFlowField, X-Particles' toolset for controlling the flow vectors for a particle system, adding a new layering system with a choice of six layer blending modes.
There are also a range of new flow types, including fields and ExplosiaFX velocities.
Other new utility features include the Intersections system, which prevents self-intersections in particle networks, branching and growth systems.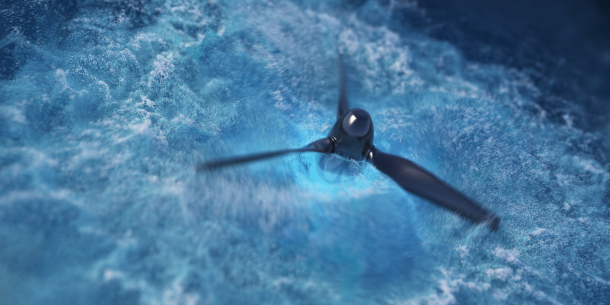 Updated 4 July 2020: Insydium has released the X-Particles 2020 update, also referred to in the online documentation as Build 884 of the software.
As well as the features covered above, the update introduces a number of smaller changes to objects and modifier: you can find a full list via the links at the foot of the story.
Pricing and availability
The X-Particles 2020 public release is available for 64-bit Cinema 4D R14+ on Windows 7+ and Mac OS X 10.10.5+. The update is free to users with current maintenance contracts.
Insydium has announced that this is the last build of the software that will support Cinema 4D R14 ot R18: future releases will require Cinema 4D R19+ and a CPU that supports AVX.
A new floating licence of the software now costs £590 (around $725), up £50 since the 2019 public release. Monthly and annual subscriptions are also available.

Read an overview of the new features in X-Particles on Insydium's website
See a full list of new features in the X-Particles 2020 public update in the online documentation
Tags: Affine Particle-In-Cell, animated vertex map, APIC solver, beta, Build 884, Cinema 4D, Cinema 4D S22, fire simulation, FLIP solver, flocking, flow field, flow layers, flow vectors, fluid simulation, gaseous fluid, instancing, Insydium, layers, liquid simulation, Metal, multiphysics, new features, ocean surface, OpenGL, particle emitter, particle system, particle trail, physics system, plugin, price, release date, scattering, simulation, simulation preview, smoke simulation, system requirements, upres simulation, upresing, viewport, weight map, X-Particles, X-Particles 2020, X-Particles 2020 public release, xpBlend, xpBranch, xpDomain, xpEmitter, xpExplosiaFX, xpFlock, xpFluidFLIP, xpOcean, xpPushApart, xpScatter, xpVertexMap