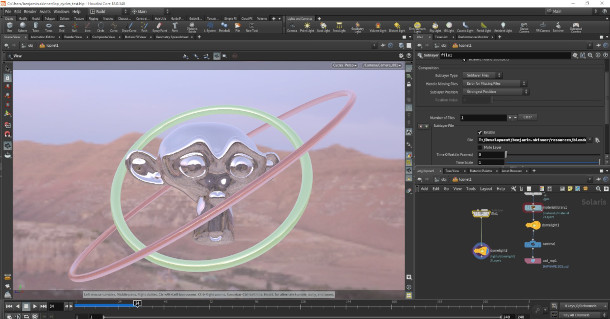 Updated 25 August 2020: Tangent Animation has now released its hdCycles plugin. Full details here.
Tangent Animation technical director Ben Skinner has posted fascinating preview images of Blender's Cycles renderer running as a Hydra render delegate within the Houdini viewport.
The work looks set to improve interoperability between the two applications, helping studios to create assets within Blender, then use Houdini's Solaris look dev toolset to assemble them into production scenes.
The integration work, which has not yet been released publicly, should also enable Cycles to run within the viewport of any other DCC application that supports Hydra render delegates.
Working towards a unified Blender-Houdini production pipeline
Tangent Animation is one of the highest-profile studios using Blender in production, having used the open-source 3D software on projects like Annie Award-nominated Netflix animated feature Next Gen.
The work previewed by Skinner should help firms like Tangent that use both Blender and Houdini in their pipelines, making it possible to use Cycles as a viewport renderer within Solaris, Houdini's look dev toolset.
The implementation makes Cycles a render delegate within Hydra, the imaging framework in USD (Universal Scene Description), Pixar's open-source scene-exchange format, on which Solaris is based.
Support for Universal Scene Description is a current development focus in Blender itself, with USD export introduced in Blender 2.82 earlier this year.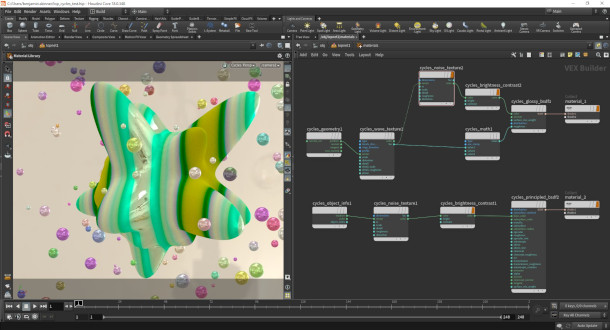 Author Cycles materials directly within Houdini
That means that a studio could create 3D assets in Blender, assemble them into a scene within Houdini, then export that scene back to Blender for rendering, ensuring that the assets display consistently throughout.
According to Skinner, it is currently possible to transfer meshes, lights, curves, materials and cameras.
Tangent's integration also makes it possible to author Cycles material networks directly within Houdini, enabling users to edit existing Cycles materials during look development, or to create new ones.
Similar workflows are possible with the Arnold and RenderMan renderers, both of which are already available as Hydra render delegates for Solaris.
May make Cycles available as a viewport renderer in other DCC software
According to Skinner, the work also means that "any DCC with Hydra integration can now have Cycles".
DCC applications that support Hydra render delegates include Katana and Maya – currently via third-party add-ons like Multiverse | USD, though direct support is planned.
Otoy has also announced that it will support Hydra delegates in its OctaneRender integration plugins, which could make it possible to use Cycles as a viewport renderer within apps like 3ds Max or Modo.
Availability and system requirements
Tangent Animation hasn't confirmed when its Cycles Hydra render delegate will be publicly available.
Updated 25 August 2020: The plugin has now been released.
The stable release of Houdini, Houdini 18.0, is available for Windows 8+, Mac OS X 10.13+, and Linux distros.
Houdini FX costs $4,495 for a node-locked licence; $6,995 for a floating licence. Houdini Core, which lacks simulation tools, costs $1,995 for a node-locked licence; $2,995 for a floating licence.
The stable release of Blender, Blender 2.83, is available free for Windows 7+, macOS 10.12+ and Linux.
Read more about the work-in-progress Cycles Hydra render delegate in Ben Skinner's Twitter thread
Tags: 3ds max, Arnold, autodesk, Ben Skinner, Blender, Blender 2.83, Cycles, Foundry, Houdini, Houdini 18, Hydra, Hydra render delegate, Katana, lighting, look dev, look development, Maya, modo, Multiverse | USD, OctaneRender, Otoy, Pixar, render engine, renderer, RenderMan, shot layout, SideFX, Solaris, Tangent Aniamation, Universal Scene Description, USD, viewport renderer