Originally posted on 15 November 2017. Scroll down for news of the 1.0 release.
Allegorithmic has released a public beta of its new standalone Substance plugin for 3ds Max, enabling Max users to import procedural materials in Allegorithmic's .sbsar format and edit them within the software.
The plugin, which will supersede the version that currently ships with 3ds Max, overhauls the user interface, makes it possible to export 8K textures, and introduces "one-click material creation" for Arnold and V-Ray.
Future updates with every release of Substance Designer, not of 3ds Max
Although 3ds Max has had the capability to import and edit materials in Substance format for some time, Allegorithmic rather pointedly describes the edition of the plugin currently bundled with the software as "an outdated version that didn't reflect how far our technology had come in recent years".
According to Allegorithmic, making the integration a standalone plugin will enable Max users to "benefit from updates that arrive simultaneously with [those to material-authoring software] Substance Designer".
At the minute, that means roughly every three months, following Allegorithmic's decision earlier this year to stop releasing "major numbered versions" of its software in favour of smaller, more regular updates.
The move brings 3ds Max into line with Maya, Modo and Houdini, all of which have standalone plugins.
New features: support for 8K texture maps, auto-generation of V-Ray and Arnold materials
The first standalone release of the 3ds Max plugin is described as a "complete redesign".
As well as improving performance – in the video above, changes made to a Substance material update in the viewport in near-real time – the update introduces a "productivity-friendly" new UI.
In practical terms, that means more slider controls for parameters, and colour-coded mouseover effects.
More significantly, the update also introduces a number of new features, including the option to batch-import materials in Substance format, and to set the default resolution of texture maps on import.
The release also introduces a new GPU engine, which can be used to generate maps at 4K and 8K resolution: the previous CPU implementation caps out at 2K.
There is also a new option to auto-generate outputs from Substances in appropriate formats for the V-Ray and Arnold renderers within 3ds Max's Slate editor, speeding up the material set-up process.
Users can also create presets for common combinations of parameter values for a Substance, then save them for use in Substance Designer or other DCC applications with Substance integration plugins.
Due in future releases of 3ds Max: search Substance Source via Autodesk's 3ds Max Asset Library
In separate news, Allegorithmic has announced that Autodesk is to make Substance Source, its online library of PBR materials, directly searchable within 3ds Max.
Both announcements were made at the Autodesk University 2017 conference.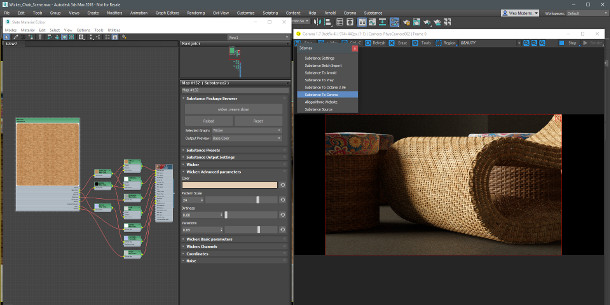 Updated 13 April 2018: Substance for 3ds Max 1.0.0, the first official version of the plugin, is now available.
The new release doesn't add many new features – it's largely stability and workflow improvements – but it does add support for Corona and OctaneRender 3.06, alongside the existing support for Arnold and V-Ray.
In addition, Substance presets (.sbsprs files) created using the plugin are now compatible with all of Allegorithmic's other software and its integrations with other DCC tools. See the full changelog here.
The 1.0 release is not backwards-compatible with the beta, so scenes created using the beta need updating manually. Allegorithmic says that this is "something we do not anticipate happening with future releases".
Pricing and availability
Substance for 3ds Max 1.0 is available free via the link below. You will need to create an account on Allegorithmic's website to download it. The plugin is compatible with 3ds Max 2019.

Read more about the features in the new Substance plugin for 3ds Max on Allegorithmic's blog
Download the free Substance plugin for 3ds Max from Allegorithmic's website (Registration required)
Tags: 3ds max, 9K, Allegorithmic, Arnold, AU 2017, Autodesk University, Autodesk University 2017, beta, Corona, download, free, GPU-accelerated, GPU-based, integration, material authoring, material edition, new features, OctaneRender, plugin, preset, procedural material, SBSAR, Substance, Substance Designer, Substance for 3ds Max 1.0, V-Ray