Monday, May 8th, 2017

Posted by Jim Thacker
Allegorithmic stops 'major numbered versions' of its tools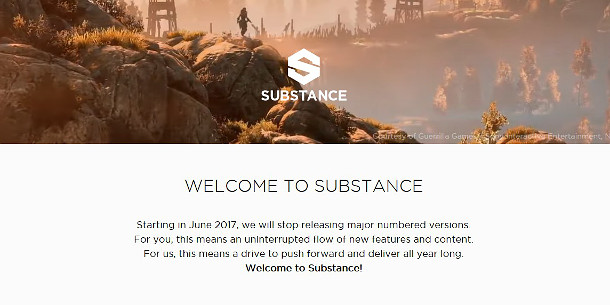 Allegorithmic is to stop releasing "major numbered versions" of its Substance products, material authoring software Substance Designer and texture painting software Substance Painter, from June 2017.
The firm's current schedule of major annual or 18-monthly paid releases of the software, interspersed with smaller free updates, will be replaced with a continuous, more even, update cycle.
In order to keep getting new versions of the software, users will need to buy updates in 12-month blocks, or switch to Allegorithmic's 'rent to own' program.
However, the firm has been at pains to stress that it is not switching to a mandatory Autodesk or Adobe-style subscription model, and that users will still own the software.
Free updates continue until the next major releases would have shipped
Owners of Indie licences of the software – that is, anyone earning under $100,000/year – will continue to receive free updates for a limited time after the new schedule comes into force in June.
Substance Painter users get them until 30 September 2017; Substance Designer users until 30 June 2018.
Under the present schedule, that's when the next major releases – which would have been Substance Painter 3 and Substance Designer 7 – would have been expected to ship; or, in Designer's case, a bit later.
After that, to receive further updates, users will need to buy them at a cost of $75 for 12 months' updates – effectively, in traditional terms, to buy a maintenance plan – or switch to rent-to-own.
Users will still own the software outright, and – unlike The Foundry's new licensing scheme for Modo – there is no financial penalty for not maintaining a maintenance plan continuously: even if a user decides to sit out certain updates, they can resume receiving them again at the same price.
Substance Live becomes plain 'Substance'
Rent-to-own scheme Substance Live – which enables users to pay monthly for Substance Designer, Painter and sister tool B2M and own the software outright at the end – has also been renamed 'Substance'.
Indie pricing remains unchanged at $19.90/month, but instead of owning the software after 16 months of payments, users will be able to buy it for an additional fee of $49 after 12 months of consecutive payments.
That works out cheaper than the old system – a total cost of $289 rather than $320 – providing you make payments monthly.
Previously, users could pause and resume payments at any point and still pay the same total price to own the software outright; now, if you do that, it resets the clock on the 12-month period, pushing up the total cost.
However, the version of the software you get to own is now the current release at the end of the instalment period: not the one that was current when you first signed up.
It will also still be possible to buy new perpetual licences with a single down payment, rather than through the rent-to-own program, with buyers automatically receiving 12 months' updates.
A halfway house between traditional upgrades and subscriptions?
The new policy is an interesting alternative to either a conventional upgrade policy or an Autodesk-style rental-only model and one that seems – as far as we can see – to have few downsides for the user.
While the announcement caused some initial controversy on Allegorithmic's forum, that seems to have been as much misunderstanding of what the new policy entailed as much as anything else.
From Allegorithmic's point of view, the benefit is that it can expect payments all year round, rather than getting most of the money in a burst when a major release comes out.
Whether 12 months of steady updates adds up to the same number of new features as a single big release is debatable, but the firm comments that it expects its development schedule to accelerate, not decelerate.
"We expect the renewal dates to spread out evenly over the year, forcing us to release interesting stuff all the time to keep people on maintenance," commented Allegorithmic Substance specialist Jeremie Noguer.
No news on Pro or Enterprise licences yet
Allegorithmic's website doesn't say what will happen to users with Pro or Enterprise licences – studios with revenues of over $100,000/year – when the new policy comes into force. We'll update if we hear more.
Updated: Allegorithmic tells us that the changes will also affect Pro and Enterprise users, and that it has contacted them directly.
Read the FAQs on Allegorithmic's new Substance update policy on the firm's website