Tuesday, March 3rd, 2015

Posted by Jim Thacker
Allegorithmic announces Substance Live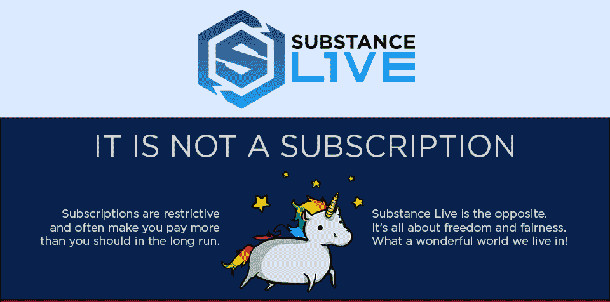 Allegorithmic has announced Substance Live: a new 'rent-to-own' pricing model for its software that the developer claims "solves the subscription or buy debate".
The scheme enables artists to make regular monthly payments towards the cost of Substance Designer, Substance Painter and Bitmap2Material and own a perpetual licence for each tool at the end of the process.
A welcome solution, but not a new one
While Substance Live is certainly an alternative to traditional one-off payments for perpetual licences of software, or Adobe and Autodesk's new rental-only policy, it isn't strictly a new one.
The scheme is effectively a digital version of old-fashioned hire-purchase agreements, letting you buy a product through a series of small monthly payments, and use it while you pay.
It's also been tried in the CG industry before: The Foundry lets users buy their first seat of Nuke this way.
But given that one of the main criticisms of rental-only policies is that they remove customer choice, more purchasing options are always welcome.
And there are some nice twists, including the option to pause payments at any time, or make discretionary overpayments. Substance Live customers also get access to new beta builds after a licence has been paid off.
So how much does it cost?
Substance Live comes in two flavours: the Indie version, which applies to artists and studios with revenues of under $100K a year, and the Pro version, for those with annual revenues under $1 million.
The Indie version costs $19.90/month for 16 months, the Pro version costs $64.90/month. After 16 payments, you own perpetual licences of Substance Designer, Substance Painter and Bitmap2Material.
However, if you've got the cash, it still makes sense to buy outright: a Substance Indie pack, which includes all three tools, costs $299 – just under $20 less than paying in instalments.
Read more about the Substance product family on Allegorithmic's website
Updated 4 March: We had some more questions about how Substance Live will work, so we contacted Allegorthmic for more details. You can read our questions and their replies below.
Q. What happens if you pause your payments? How long can you carry on using the software?
A. Each time you pay, you can use the software for the next 31 days.
Q. What happens if you only want one of the three tools? Can you buy it via Substance Live?
A. No, you can only pay monthly for the whole toolset. You can still buy each product separately as a one one-off.
Q. What happens if one or more of the tools receives a paid update while you're still paying instalments?
A. You can transfer 50% of what you paid for the previous version to the new version and choose either to keep paying for the previous version until you own it, or keep paying for the new version until you pay the total amount of the upgrade. However, from [today] there won't be any paid upgrades for at least the next 12 months.