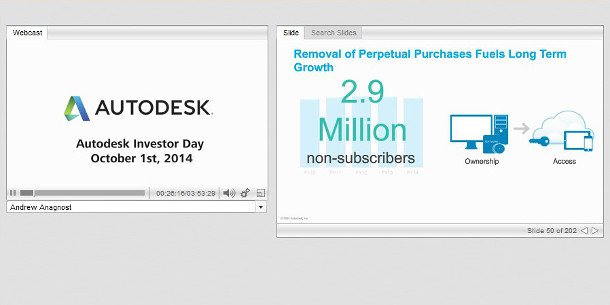 A slide from Autodesk's Investor Day presentation. The company announced that it plans to phase out perpetual software licences over the next 12-24 months, leaving subscriptions as the only way to buy its products.
Autodesk plans to phase out perpetual licences of all its software products over the next two years, leaving maintenance and desktop subscriptions as the only way to buy its products.
The announcement was made during Autodesk's annual Investor Day, and follows comments made by CEO Carl Bass in an conference call earlier this year that the company was "seriously considering" the move.
Perpetual licences phased out over the next 12-24 months
During his presentation, Autodesk SVP of industry strategy and marketing Andrew Anagnost noted that the company intended to target the 2.9 million customers who use versions of its products one to five years old.
"These are not pirates … these are real customers. They just happen to purchase from us perpetual licences on an infrequent basis, because they can," he said. "This really isn't good for our ecosystem."
"We not only believe [subscription] is the right thing for our business, we believe it's the right thing for our customers," Anagnost continued. "Not only does this provide the lowest-cost access to the offerings our customers have ever seen, it also provides a superior experience. Because we believe in this so much, over the next 12 to 24 months, we're going to stop selling perpetual licences."
The withdrawal of perpetual licences will be phased in by geographical region and by product, with Anagnost identifying AutoCAD LT as the company's initial focus.
Do the numbers add up?
For Autodesk, the business case is pretty clear. Anagnost noted that AutoCAD LT customers on subscriptions generate an average of $310/year for the company, compared to $240/year for those on perpetual licences.
Whether the business case is so clear for the end user depends on how frequently you need the new features that Autodesk's annual releases bring.
For example, at time of writing, the SRP of an annual subscription to Maya is $1,470, versus $3,675 for a perpetual licence, so if you only need every third version, it's cheaper to buy outright.
Most large studios fall into the 'more often than three years' camp; many small studios and freelancers do not.
New subscription incentives
The exact economics may change in future: Anagnost noted that Autodesk intends to bring in new subscription packages, such as 'buy three years, pay annually', which may reduce the cost for committed users.
Autodesk also intends to introduce "exclusive support for desktop subscriptions", described by Anagnost as "things that help customers get up to speed with the software".
Dividing opinion
New payment plans and support options seem unlikely to appease opponents of subscriptions, many of whom feel that Autodesk is maximising its profits at the expense of customer choice.
However, for many users, the numbers clearly do add up: Autodesk reported record revenues for the last financial quarter, driven in part by 74,000 new maintenance, desktop and cloud subscriptions.
Listen to a recording of Autodesk's Investor Day presentations
(Registration required: the relevant section starts around 00:10:00)
Tags: autodesk, desktop subscription, dropped, maintenance, perpetual licence, rental, rental-only, scrapped, subscription only