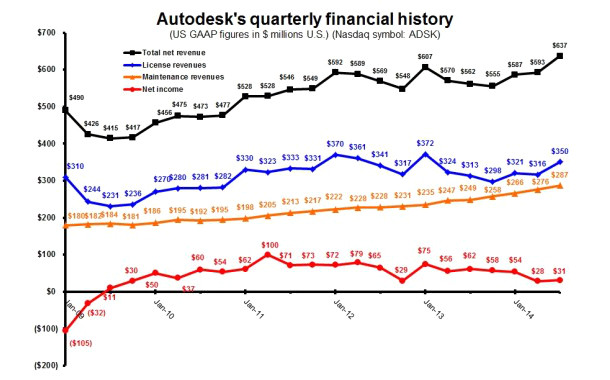 Autodesk's subscription revenues have grown in recent years. The firm is now considering dropping perpetual licences of its software, leaving subscription as the only way to access new features. Image: GraphicSpeak.
Autodesk is "seriously considering" scrapping perpetual licences of its software in favour of an Adobe-style rental-only model, according to CEO Carl Bass, speaking in a conference call with financial analysts this month.
Decision to drop software upgrades helped drive revenues
Bass's remarks were made in the context of Autodesk's recent record second-quarter earnings: attributed in part to the decision to discontinue upgrades of its software next year driving subscription revenue.
Asked by one analyst at what point customers buying their final upgrades before the deadline might be forced to "finally cave in for maintenance in order to stay current", Bass noted that users can still also stay up to date by repurchasing software outright when they feel it has accumulated enough new features to justify the cost.
"If you don't want to get our maintenance, you buy a perpetual license now … and then some number of years from now when you're comfortable with the new product, you buy another perpetual license," he said.
A move away from perpetual licences would remove that option to skip versions at will.
Asked by another analyst when the company "might eliminate perpetual sales", Bass commented: "We've been looking and considering it seriously and we'll talk a little bit more about [our plans] in October."
Dropping perpetual licences: only a question of time?
In this case, October means Autodesk's annual investor day. However, comments made by Bass later in the conference call suggest Autodesk regards the decision as when, not whether, to drop perpetual licences.
Commenting on Adobe's existing rental-only licensing model, he noted: "Three years from now it will be surprising to me if anybody is really running very much perpetual desktop software."
Listen to a recording of the analyst conference call on Autodesk's website
(Registration required: the relevant section starts around 17:30)
Tags: Adobe, autodesk, Carl Bass, discontinue, drop, earnings, perpetual licences, rental-only, revenue, scrap, stop, subscription, upgrades