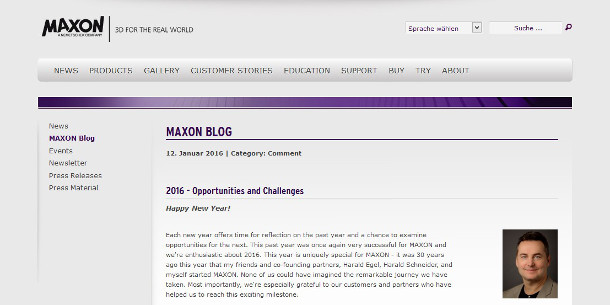 Maxon is to offer subscription-based licences for Cinema 4D alongside its existing perpetual software licences, the company has announced.
The firm joins other major DCC tools developers, including Autodesk and Adobe, in offering rental-based options for licensing its software.
Company still "committed to offering a perpetual licence" alongside subscriptions
In a post on Maxon's blog, company co-founder Uwe Bärtels commented that "the most significant change that has come to our industry is the shift from perpetual to subscription-based licensing".
"We … recognise that subscription models make it easier for individuals to acquire software and for larger companies to adjust licensing counts to satisfy short-term production needs. Therefore, in 2016, Maxon will be exploring new ways to offer Cinema 4D in a time-limited fashion to satisfy this demand."
Unlike Autodesk and Adobe, Maxon does not currently plan to move to a rental-only model, with Bärtels noting that the company "remains committed to offering a perpetual license with the security of software ownership".
The move would place Maxon in a similar camp to The Foundry, which currently offers perpetual licences, rental and 'rent to own' pricing on products like Nuke, but rental-only on others, like Colorway.
This thread on The Foundry's forum offers an interesting discussion of the relative merits of subscriptions and perpetual licensing, including detailed contributions from product marketing manager Shane Griffith.
Read Uwe Bärtels' announcement of subscription licensing for Cinema 4D on Maxon's blog
Tags: Adobe, autodesk, BodyPaint, Cinema 4D, licence, Maxon, perpetual licence, pricing, rental, rental-only, subscription, The Foundry, Uwe Bärtels