Friday, July 19th, 2019

Posted by Jim Thacker
Adobe releases Substance in Maya 2.0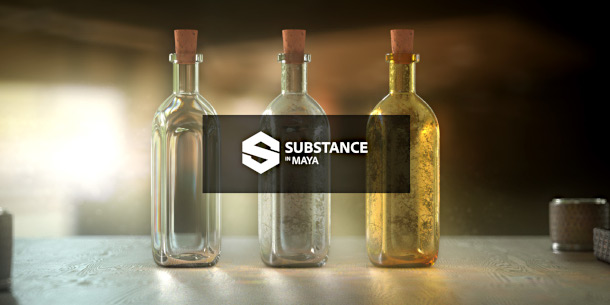 Adobe has released Substance in Maya 2.0.1, a "completely rewritten" version of the Substance integration plugin, which ships natively with Maya and Maya LT.
The plugin enables users to manipulate procedural materials in the .sbsar format used by material-authoring tool Substance Designer directly inside Maya.
New features include support for texture resolutions of up to 8K, the option to use numeric outputs from Substance materials, and "one-click" support for common third-party render engines.
One-click support for third-party renderers, increased output resolution
The update follows a similar pattern to last year's rewrite of the Substance for 3ds Max plugin, released before original developer Allegorithmic was acquired by Adobe.
As with the 3ds Max edition, the update introduces what Adobe describes as a "one-click" workflow for setting up shading networks compatible with key third-party render engines.
Those listed for the Maya edition include Arnold, Maxwell, Redshift, RenderMan and V-Ray Next.
Also as with the 3ds Max edition, the update raises the maximum resolution of texture maps supported: to 4K for the plugin's CPU engine, and to 8K for the GPU engine.
Maps can also now be cached to disk as LDR or HDR files, the latter supporting floating-point outputs.
Output numeric values to other Maya nodes or control output via Python scripting
In addition, it is now possible to output numeric values from Substance materials as well as texture maps.
Suggested use cases for the functionality – originally introduced in Substance Designer 2019.1 earlier this year – include driving materials properties like IOR inside Maya shading networks.
Workflow changes include a new presets system, enabling users to save, reuse and share Substance material set-ups; and the option to batch-import Substance materials, and batch-bake outputs to disk.
For studios needing to create custom tools, the update also exposes the new Python API that has been rolling out in recent releases of Substance Designer.
In addition, the UI has been updated, introducing a new Substance shelf containing commonly used commands, plus access to 22 bundled materials from Substance Source.
Pricing and availability
Substance in Maya 2.0.1 is available for Maya and Maya LT 2018+ on Windows, Linux and macOS. The updated plugin can be downloaded for free from the product website via the link below.
For users of older versions of Maya and Maya LT, Substance in Maya 1.2.x and 1.3.x are still available, and are compatible with Maya 2015-2017 and Maya LT 2017.
Read more about the new features in Substance in Maya 2.0 on Adobe's blog