Friday, November 3rd, 2017

Posted by Jim Thacker
innoBright ships Altus 1.9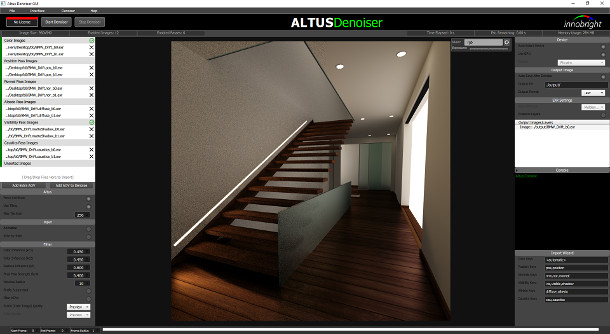 Altus, innoBright's standalone denoising software, automatically removes noise from ray traced images generated in a range of common renderers. The 1.9 release introduces a new full-screen GUI, shown above.

Originally posted on 20 June 2016. Scroll down for details of the 1.9 release
innoBright Technologies has released Altus 1.5, the latest update to its standalone tool for denoising images generated in a range of common renderers, including Arnold, Redshift and Maxwell Render.
The update, which is still officially in beta, adds support for denoising multilayer EXRs, stereoscopic images, and any number of AOVs. It also officially adds support for GPU acceleration via CUDA as well as OpenCL.
Generate quick, noisy renders, then clean them up in post
Launched last fall, the software works along similar lines to the Denoise option introduced in RenderMan 20: in this case, automatically removing noise from ray traced images generated using Monte Carlo methods.
According to innoBright, this combined rendering and post-processing workflow acclerates Monte Carlo renders by 200-1,200% over simply generating an equivalently noise-free image in the host render engine.
The software can handle depth of field and motion blur, and supports both still renders and animations.
Since Altus's original release, both Render Legion and Chaos Group have introduced their own denoising systems in Corona Renderer and V-Ray.
Better handling of EXRs, under-the-hood improvements
The 1.5 update introduces support for denoising stereo images in side-by-side format, and multilayered EXR files. innoBright describes the latter as still "a bit tricky".
There is also a new GUI, which supports the new features, and which can be called from the command line. Update: The GUI has been significantly overhauled in Altus 1.9. Scroll down for more details.
Altus 1.5 also now supports any AOV pass – the firm's newsletter says you can use any number of AOVs; the release notes say up to six via the new GUI – and command-line setup has been simplified.
In addition, Altus now officially supports GPU acceleration via Nvidia's CUDA API as well as the hardware-agnostic OpenCL. Updated: The CUDA build has been removed in Altus 1.9.

Updated 30 November 2016: innoBright has released Altus 1.6. It isn't a huge update – the firm's newsletter says it would normally have been another 1.5 point release – so we're including it here.
Aside from bugfixes, the main change is to the way AOVs are handled on the command line, intended to lay the groundwork for Altus 2.0, which is due for release next year.
According to innoBright: "You can get better quality targeting quirks of specific renderers [so] we want to specify names of AOVs you pass to Altus … as well as the renderer you use."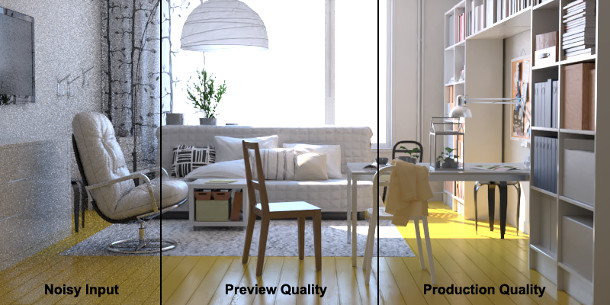 Updated 18 February 2017: innoBright has released Altus 1.8. The update introduces new image quality settings when denoising renders or filtering AOVs.
Renders get two new, pretty self-explanatory quality settings: 'preview' and 'production'. According to innoBright, the preview setting computes up to 4x faster.
AOVs also get a third option, 'prefiltered', which outputs the result after the first stage of filtering.
The resulting image quality obviously isn't as high as running the entire process, but innoBright says that it is an improvement and doesn't incur "any extra run time cost", although it does use more memory.
There are also a few GUI and workflow improvements, which you can find listed in the online changelog.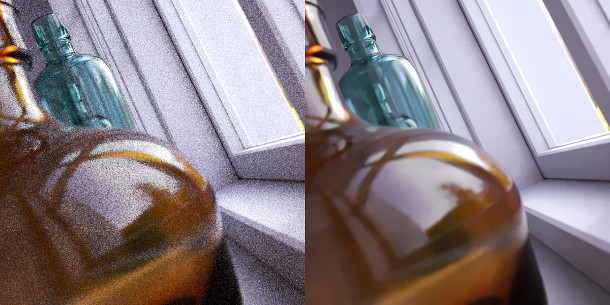 Updated 2 June 2017: innoBright has released Altus 1.8.4. The changelog hasn't been updated yet, but the firm's newsletter describes it as adding a new system for suppressing firefly artefacts in renders.
The software also now makes it possible to split images into tiles to denoise renders that would otherwise be too large to fit into GPU memory.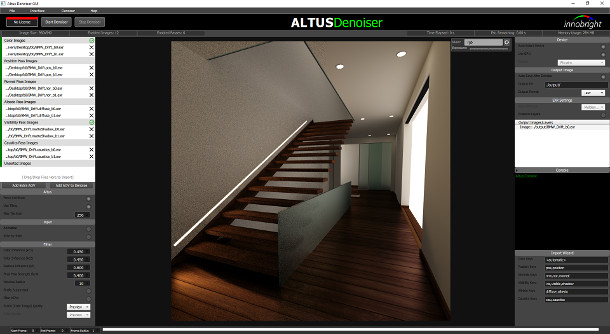 Updated 3 November 2017: innoBright has released Altus 1.9, overhauling the software's GUI. The new full-screen design, shown above, is intended to provide more visual feedback on the denoising process.
The update also introduces a new import wizard, providing a drag-and-drop alternative to the software's previously command-line-driven workflow.
It is also now possible to denoise and export individual AOVs, instead of a single multi-layer image.
Under the hood, the software now runs on the GPU by default, and via OpenCL only. The old CUDA version is no longer publicly available, with innoBright describing OpenCL as "faster and more reliable".
In addition, Altus can now run on Intel GPUs on all operating systems, although the software will only pick an Intel integrated chip if no other GPUs are available.

Pricing and availability
Altus 1.9 is available for 64-bit Windows 7 or later, Ubuntu 12.04 or CentOS 6.x Linux or later, and Mac OS X 10.9 or later. The software is rental-only: floating licences start at $299/year.

Read a full list of new features in Altus 1.9 in innoBright's online changelog