Monday, November 30th, 2015

Posted by Jim Thacker
Quixel ships Quixel Suite 2.0
Originally posted on 9 September 2015. Scroll down for details of the commercial release.
Quixel has officially unveiled Quixel Suite 2.0, a major update to its set of games texturing tools for Photoshop that introduces a new direct 3D texture-painting workflow and improved texture-baking options.
What do you get in the Suite?
First released last year, Quixel Suite bundled two existing Quixel products – texture-painting toolset DDO and normal map creation tool NDO – with 3DO, a PBR model and material viewer.
In Quixel Suite 2.0, they have been renamed 'NDO Painter', 'DDO Painter' and '3DO Baker' – which should give you a clue as to their new functionality – but we'll refer to them by the old, shorter names here.
The Suite also includes a limited selection of scanned real-world materials from Quixel's Megascans library.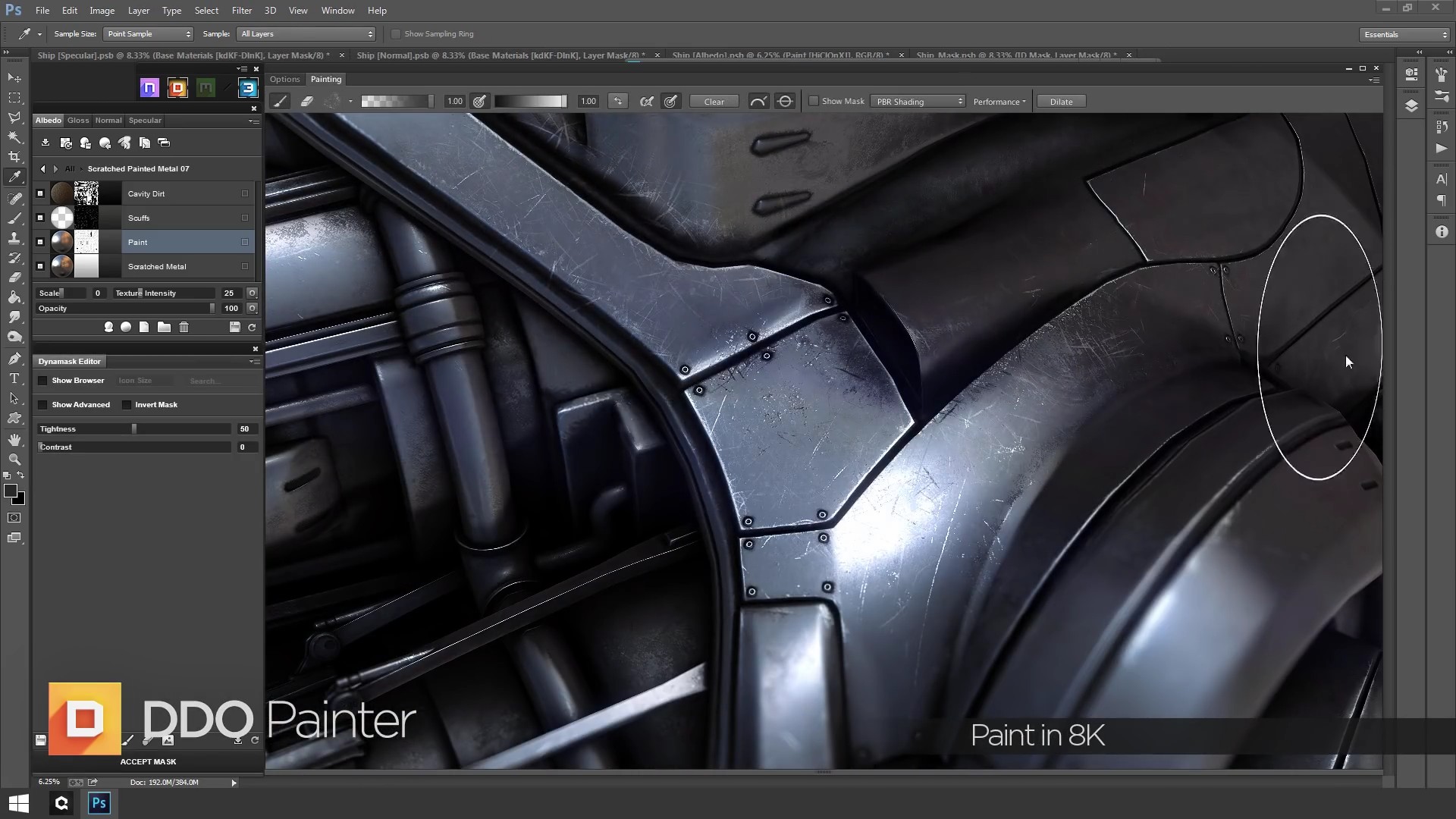 Paint texture maps directly in 3D
We can't find a list of new features on Quixel's website, but from the teaser video above, one of the biggest selling points of Quixel Suite 2.0 is the option to paint textures directly in a 3D view.
Rather than users painting textures in 2D in DDO or NDO, then seeing the result previewed in 3D in a floating 3DO window, the video shows both normal and diffuse textures painted directly in an integrated viewport.
The workflow looks similar to that of tools like Allegorithmic's Substance Painter or The Foundry's Mari – possibly with some of the latter's ability to handle very large assets, since the video shows 8K textures.
Although the footage is sped up, making it difficult to gauge the software's responsiveness, Quixel says that real-time performance and stability have both been greatly improved since the 1.x releases.
Improved brush and masking options
Users will be able to import custom brushes, or use Quixel's presets: the support thread on Polycount mentions "500+ custom-made 4K brushes", while the video lists "1,000+ brushes, masks and materials".
In addition, DDO's DynaMask mask editor has been updated, improving speed and introducing some "nifty new features". It can be glimpsed briefly around 0:26 in the video.
According to the forum thread, there is now "a really nice export map feature with some sweet options [including the option to export masks] both from DDO main window and DynaMask".
New texture-baking options in 3DO
The other major change looks to be the new texture-baking functionality in 3DO, seen at 0:15 in the video.
In a forum post Quixel says that 3DO now bakes object space normal, curvature, gradient, and ambient occlusion passes – at up to 32K resolution, according to the video.
The Megascans Starter Kit included with the Suite has also been updated with higher-res versions of existing materials and "some" new additions, although the number doesn't seem to have been confirmed.
Pipeline compatiblity
According to the Polycount thread, the Suite will include built-in export calibration profiles for Unity and Unreal Engine 4 plus offline render engines like V-Ray, OctaneRender and Arnold, with "many more to come".
Quixel is also "looking at adding" the option to import geometry in FBX format as well as OBJ "hopefully for this or [the] next version", although there are no immediate plans to support the UDIM format for UV space.
Updated 30 November 2015: Quixel Suite 2.0 is now shipping for Photoshop CS3+ on Windows XP and above. The update is free to registered users of the software.
The pricing structure for new licences has been changed for the 2.0 release: the old $99 Hobby & Freelance licence and the $249 Indie licence have been combined into a single $139 licence for independent artists.
The cost of a full unrestricted licence, intended for studios, rises from $499 to $549. Both licence types permit commercial use.
Quixel has also produced new learning materials for Quixel Suite 2.0, including the 15-minute overview above, which has downloadable project files. Separate videos cover workflow for Octane, Arnold and mental ray.
Read more about the new features in Quixel Suite 2.0 in the support thread on Polycount