Monday, November 20th, 2023

Posted by Jim Thacker
Pablo Dobarro and Joan Fons unveil Uniform
This is what we have been working on all this time. Finally, the art software I always wanted to have. https://t.co/Qj0DO5HXFe

— Pablo Dobarro (@pablodp606) November 17, 2023

Sparseal – aka CozyBlanket developers Pablo Dobarro and Joan Fons – have unveiled Uniform, an intriguing iPad app for creating lightweight textured 3D assets for games and concept art.
Its creators describe Uniform as "art-focused 2D/3D software [for] the entire asset creation process, featuring a modular scene and tool system unlike anything you've ever seen".
The second commercial iPad app from the former Blender sculpting tools lead
Uniform is the second iPad app from Sparseal, founded by former Blender sculpting tools lead Pablo Dobarro, and Godot Engine developer Joan Fons.
The first, retopology app CozyBlanket, lets users retopologise 3D models simply by drawing the new edge flows onto the surface of a high-res model.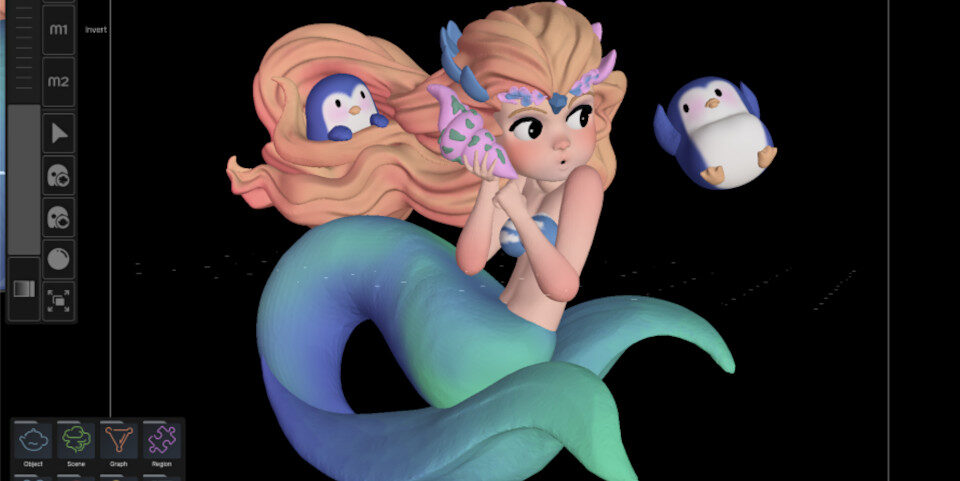 An intriguing – but hard to quantify – new asset creation tool
By contrast, Uniform has a much broader focus, although it's difficult to pigeonhole precisely.
According to Dobarro, it is neither a conventional polygonal modeling or digital sculpting tool, although it "has features that resemble those kinds of workflows".
"[While] there is no concept of 'sculpting" in Uniform, it has displacement brushes and delta deformers. Depending on where you use [them, the result] may look like high-poly sculpting".
Other toolsets include image editing, UV editing, texture painting – both vertex painting, and layer-based painting of PBR texture maps – procedural geometry, curves, retopology, lighting and rendering.
Uniform tool modules allow a huge amount of useful combinations. For example, take the Trim Brush, set the Brush Sampler to Scatter, and it will create effects like this. https://t.co/8ouGf5hxJZ pic.twitter.com/I02OJtJrRy

— Pablo Dobarro (@pablodp606) November 21, 2023
Updated 22 November 2023: Pablo Dobarro has posted new videos showing Uniform's modular tool system.
Each readymade tool is composed of modules that can be combined in new ways to create custom tools. The combinations can be saved as presets and shared with other users.
An all-in-one app for creating lightweight textured assets for games and concept art
Uniform is designed to enable artists to create 3D assets for use in games or concept art.
Workflow is geared towards creating content from scratch: while you can import simple meshes, "importing full scenes (like a USD file) can be tricky".
The app "exports regular meshes and textures, so you can use its output in other software".
Replying to a Discord comment about the need for an all-in-one tool for creating a textured, game-ready asset, Dobarro replied, "Yes, it [Uniform] is exactly that".
Price, system requirements and release date
Uniform hasn't been released yet. Sparseal plans to announce the beta release on its Discord server: you can find a link to it at the foot of this story.
The app will be initially available for iPadOS only. There are currently no plans for an Android version; a desktop version will "depend on distribution and hardware compatibility".
Sparseal hasn't announced pricing yet, but it will "follow the same market tendencies as … similar products" rather than a "race to the bottom to maximize user acquisition".
Read more about Uniform on Sparseal's Discord server
(Includes hints at features planned for future releases)

Have your say on this story by following CG Channel on Facebook, Instagram and X (formerly Twitter). As well as being able to comment on stories, followers of our social media accounts can see videos we don't post on the site itself, including making-ofs for the latest VFX movies, animations, games cinematics and motion graphics projects.