Tuesday, August 29th, 2023

Posted by Jim Thacker
Dimension 5 Techs launches D5 for Teams

Dimension 5 Techs has launched D5 for Teams, a new suite of collaboration features available to users of D5 Render, its GPU ray tracing renderer.
The toolset, aimed at teams of three or more, includes simultaneous scene editing, with live sync to all of the DCC applications that D5 Render supports, a shared resource library, and a comments system.
A fast GPU-based ray tracing render for architectural visualisation work
First released in 2021, D5 Render is a fast, increasingly powerful architectural renderer with integrations for a range of DCC and CAD tools, including 3ds Max, Blender, Cinema 4D, Revit, Rhino and SketchUp.
Although the Community edition is free, paid Pro subscriptions provide advanced rendering features, the option to merge projects, and access to a library of over 11,000 assets.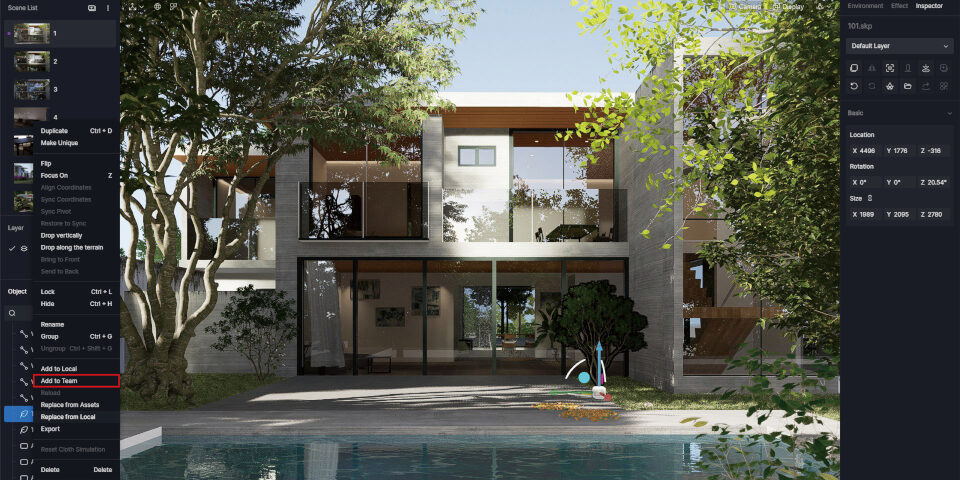 D5 for Teams makes it possible for multiple users to edit a project in supported DCC applications
On top of that, D5 for Teams, which is aimed at groups of three or more users, provides a suite of features intended to streamline workflow on larger collaborative projects.
Key features include support for simultaneous editing of a scene by multiple users.
To prevent one user overwriting another's changes, administrators can divide the assets in a project into separate worksets, each of which can be edited in parallel, with the option to make some worksets read-only.
Changes to the central scene file are live-synced to users' host DCC applications.
As well as being able to add or remove team members and to assign access permissions, administrators and project owners get access to a dashboard providing basic project analytics.
Can be deployed locally, but includes cloud-based features
Shared scenes are hosted locally on a studio's network, with the option to create a shared drive or designate a NAS device to store projects and assets.
In addition, D5 Studio, the new cloud-based workspace introduced with D5 Render 2.5, can be used to access project presets, including brush presets and environment effects.
Projects must also be bound to the cloud to use the comments system, which enables collaborators or clients to add text-based comments to projects to flag up changes necessary.
Price and system requirements
D5 Render is available for Windows 10. It requires a GPU capable of hardware-accelerated ray tracing: Dimension 5 recommends a Nvidia GeForce GTX 1060+, an AMD Radeon Pro W6600+ or an Intel Arc A3+.
Integration plugins are available for 3ds Max 2014-2016 and 2018+, ArchiCAD 21+, Blender 2.93+, Cinema 4D R20+, Revit 2018+, Rhino 6.1+ and SketchUp 2017+.
Pro subscriptions cost $38/user/month or $360/user/year; Teams subscriptions have a MSRP of $1,000/user/year, for a minimum of two users, and include the features listed above.
The Community edition is free, and fully functional, but lacks access to the full asset library.

Read an overview of D5 for Teams on the product website
Read a full list of features in D5 for Teams in the online release notes
Read Dimension 5's privacy policy
(The firm is based in China, and is governed by Chinese law)