Sunday, July 9th, 2023

Posted by Jim Thacker
Get 250+ free modular assets for building medieval cities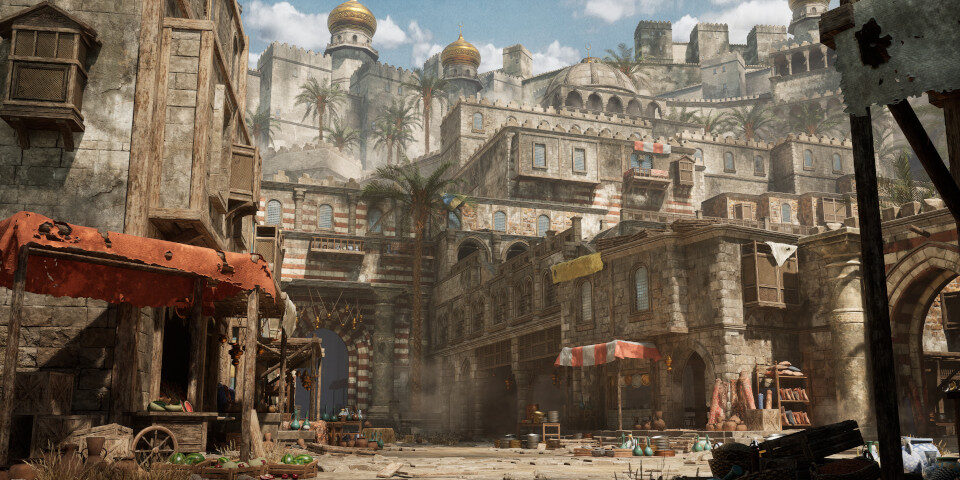 Epic Games has made over 250 modular assets for building medieval cities from games outsourcing firm Meshingun Studio available for free on the Unreal Engine Marketplace.
The assets are available as part of The Bazaar asset pack, included in Epic's free marketplace content for July 2023, and will be free until the end of the month.
Over 250 modular assets for creating a medieval Middle Eastern city
The Bazaar is a set of modular assets suitable for assembling a marketplace from a medieval Middle Eastern or North African city, including building parts, palm trees and set dressing objects.
The assets are provided at eight LODs, with textures up to 4,096 x 4,096px in resolution.
The asset pack is compatible with both Unreal Engine 4 and 5, with the Unreal Engine 5 version including Nanite meshes and Lumen lighting.
System requirements and availability
The Bazaar asset pack is available free via the Unreal Engine Marketplace during July 2023. It is compatible with Unreal Engine 4.24+.
The marketplace usage rights permit assets not created by Epic Games itself to be exported to other game engines and DCC software, although obviously, some features require Unreal Engine to work.

Download Meshingun Studio's The Bazaar asset pack from the Unreal Engine marketplace