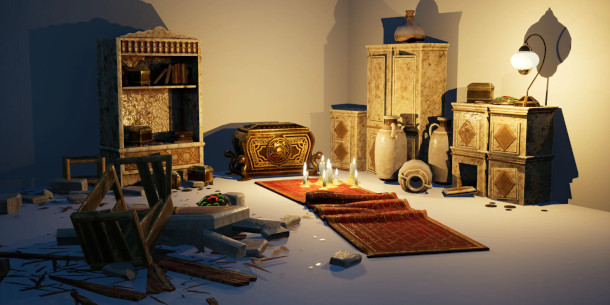 Epic Games has released three packs of 3D art assets from City of Brass, Uppercut Games' Arabian-Nights-themed first-person PC-and-console dungeon crawler, for free on the Unreal Engine Marketplace.
The assets, made available under Epic's Marketplace Collection initiative, comprise 360 modular environment meshes, 121 props, and 14 rigged and animated characters.
Download assets from commercial games via Epic Games' Marketplace Collection program
The City of Brass packs are the latest sets of assets from commercial games to be released to the Unreal Engine community for free, a process begun with Epic Games' own Paragon and Infnity Blade series.
Other games with assets available via the Marketplace Collection include Giant Sparrow's award-winning 3D exploration title What Remains of Edith Finch, and O.T.K. Games' colourful 2D RPG The Vagrant.
Over 400 free Arabian-Nights-themed 3D environment, prop and character assets
The City of Brass Environments pack consists of a set of 360 modular environment assets divided into three tilsets for the game's city streets, gardens and palace.
The Props pack comprises 121 assets, including furniture, cushions and rugs.
The Enemies pack includes 14 Skeletal Mesh – and literally skeletal – characters. They use a shared custom skeleton, but many have unique combat animations.
The assets lack LODs, but they're fairly low-poly anyway, with vertex counts topping out at 39,000 for the building models; and come with 1,024 x 1,024px and 2,048 x 2,048px textures.
System requirements and availability
The City of Brass asset packs are free, and are compatible with version 4.25+ of the Unreal Editor.
The Unreal Marketplace licence conditions permit assets not created by Epic Games itself to be used in other game engines, including commercial projects
Download over 400 3D assets from Uppercut Games' City of Brass from the Unreal Marketplace
Tags: animated character, Arabian Nights, asset pack, building, City of Brass, combat animation, cushion, download, Epic Games, free, furniture, game art, game asset, game character, game development, game model, Giant Sparrow, Infinity Blade, licence conditions, Marketplace Collection, material, Middle Eastern, O.T.K. Games, Paragon, period, prop, resolution, rigged character, rug, system requirements, texture, The Vagrant, Unreal Engine, Uppercut Games, What Remains of Edith Finch