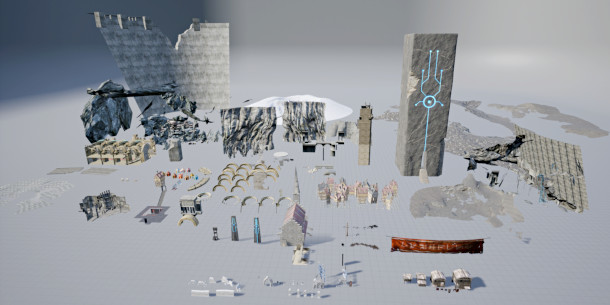 Epic Games has released five new packs of environment assets from the Infinity Blade franchise, its series of iOS fighting games, for free via the Unreal Engine marketplace.
The packs comprise themed sets of environment assets like buildings, rocks and trees, including those for a medieval castle and village, a desert temple and a cliff hideout.
The release coincides with the announcement that Epic is extending its series of free monthly asset drops for a second year, with the next releases in the series due on 5 November 2019.
Extending Epic's series of free Infinity Blade asset packs
Epic Games first released assets from the Infinity Blade series in 2015, putting out over 7,000 characters, weapons, environments and FX elements from the cancelled Infinity Blade: Dungeons.
This week's update adds assets from the company's Infinity Blade trilogy, released between 2010 and 2013, and finally removed from sale in Apple's App Store last year.
They're all environment assets this time round, with four themed packs for the village, castle, hideout and temple, plus a pack of miscellaneous props including statues and trees.
All of the assets are optimised for mobile – so they don't come with LODs, and the texture maps go up to a maximum resolution of 2,048 x 2,048px – and have been updated for the latest version of Unreal Engine.
Availability and system requirements
Epic Games' new Infinity Blade asset packs are available for free via the Unreal Engine marketplace for Unreal Engine 4.23 only. The original Infinity Blade assets are also still available free.
Marketplace assets are licensed under the terms of the Unreal Engine EULA, so they can only be used in Unreal Engine games.
Download Epic Games' free Infinity Blade asset packs from the Unreal Engine marketplace
Tags: building, commercial use, download, environment, environment asset, Epic, Epic Games, free, Infinity Blade, Infinity Blade trilogy, iOS, model, optimized for mobile, rock, statue, tree, UE4, Unreal Engine 4