Friday, November 2nd, 2018

Posted by Jim Thacker
Epic Games to release monthly free asset drops for UE4 users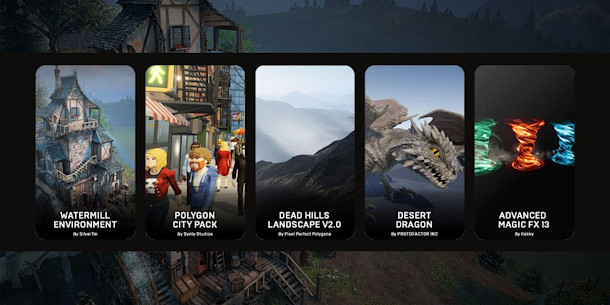 Epic Games has launched Unreal Engine Sponsored Content: a program of monthly releases of free stock assets for the game engine via Unreal Engine Marketplace.
The firm plans to make five assets per month temporarily free to download, and others permanently free.
Free this month: environment assets, rigged creatures and magic FX
The first set of sponsored content, which is free to download until the end of November 2018, includes environment models – buildings, vehicles, trees and rocks – terrain, a rigged creature and magic FX.
All five previously had review scores of between four and five stars during their time on sale.
Backards compatibility and platform support vary, but the environment assets should work for both desktop and mobile devices, with the natural environment pack supported as far back as Unreal Engine 4.8.
More new free content to follow in December
Epic says that it plans to release a new round of free content in December, and is currently accepting submissions from content creators to join the sponsored content program.
There's an FAQs document available via the link below, though you'll need to be an existing Marketplace seller with access to the Creator's Hub to view it.
In addition, 13 further asset packs – including animals, fantasy creatures, weapons and a range of materials – are now permanently free to download on the marketplace.

Read more about Sponsored Content on the Unreal Engine website
(Includes links to the current set of free assets)
Download more free UE4 models, characters, materials and FX from Unreal Engine Marketplace