Digital twin firm Geopipe has made its 3D reconstruction of New York City available to download for free.
Users can download any part of the city, which includes both buidings and terrain, as a lightweight textured model in common 3D formats including FBX, OBJ and glTF, for use in DCC applications and game engines.
An AI-generated 3D reconstruction of the entire city of New York
Geopipe specialises in AI-based reconstruction of real-world cities from satellite and geospatial data, for use in games, simulations, training and architectural visualisation.
As a sample of its data, the firm lets users download any part of its reconstruction of New York City – it covers all five boroughs, including Staten Island – for free.
To do so, you need to register for a free account on the site, then choose the Free Custom Models option.
You will then be taken to an aerial view of New York – you can toggle between a satellite view from Bing Maps or a black-and-white street plan – that you can zoom into or fly around in 3D.
It's also possible to jump to a specific part of the model by entering the street address in the search field.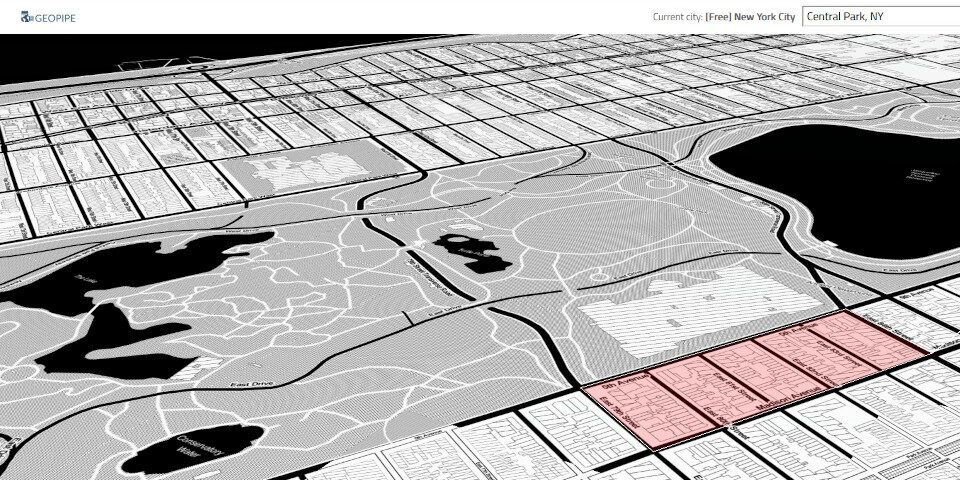 Five blocks on the edge of Central Park selected for download from Geopipe's 3D model of New York City.

Select any part of the city to download as a textured 3D model
You can then select a part of the model for download, which we found easiest to do in the Stamen Map view – the black-and-white street plan – using the Vertex Selector tool to trace around city blocks.
Clicking Confirm brings up a set of download options, including whether to include buildings, terrain and other objects like trees, whether to include textures, and in which file format you want the model.
It's possible to download the data in FBX, OBJ, gtTF/GLB or Collada format, for use in DCC apps like Blender, 3ds Max, Cinema 4D, Maya or Houdini, or as an OSG file for use in geospatial applications.
Actually generating the download consumes credits – you get 180,000/month for free – with the number of credits used increasing in proportion to the land area you're reconstructing.
Once you confirm your choices, the download becomes available in the Downloads section of your account.
The process can be confusing the first time you do it, so if you get stuck, Games From Scratch – to whom we owe a tip of the hat for spotting the model in the first place – has a video walkthrough.
Readymade downloads in FBX, GLB or Collada format, or as Unity files
Alternatively, Geopipe has two readymade downloads showing the areas around Rockefeller Plaza and Columbus Circle.
You can download them from its website in FBX, GLB or Collada format by choosing View Sample Models, or Unity users can download them from the Unity Asset Store for Unity 2020.3.34 and above.
System requirements and licensing
Geopipe's free 3D reconstruction of New York City can be downloaded in FBX, OBJ, gtTF/GLB or Collada (DAE) format, making it compatible with almost any DCC application or game engine.
The data is licensed under a Creative Commons Attribution licence, permitting commercial use.

Download the free 3D model of New York City from Geopipe's website
Tags: 3D city, 3D model, 3ds max, AI-generated, arch viz, architectural visualization, Blender, Cinema 4D, city model, Collada, commercial use, Creative Commons licence, donwload, download, FBX, free, game development, Geopipe, GLB, glTF, Houdini, low-poly, Maya, New York, OBJ, OSG, previs, real time, Unity, Unreal Engine