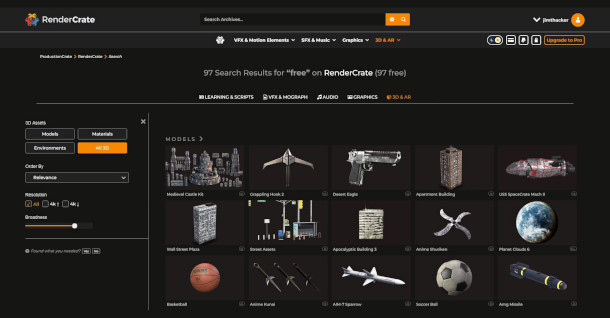 Online asset library RenderCrate has updated its free content, bringing the total number of 3D models available for free to over 90.
The most recent addition is a free scan-based modular asset pack for building medieval castles.
Download free low-poly 3D models for assembling interior an exterior environments
RenderCrate is part of larger online library ProductionCrate, which provides a range of stock assets for motion graphics and visual effects work, particularly for content for online platforms like YouTube.
We've written about its free stock FX elements in the past, but the library also includes sound effects clips, including explosions, gunshots and combat sounds, and, in the case of RenderCrate, low-poly 3D models.
At the time of writing, 97 are available free, including buildings, home and street furniture, and sports gear.
The files are typically provided in FBX and OBJ format, with PBR textures in metallic-roughness and specular-glossiness formats, at resolutions ranging from 1,024 x 1,024px to 8,192 x 8,192px.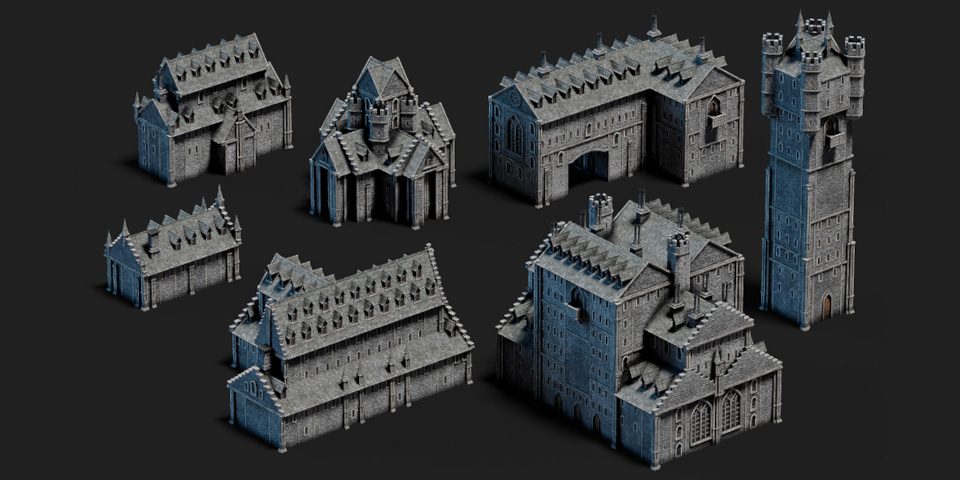 Includes a great free kit of modular 3D parts of assembling medieval castles
The most complex free model is also the most recent, a modular kit of 3D parts for medieval castles, based on photogrammetry of real buildings in Dubrovnik and surrounding parts of Croatia.
The pack includes scans of buildings featured in Game of Thrones, which was partly filmed in the region, and includes walls, towers, and smaller outbuildings and houses that can be used to assemble entire cities.
The files are supplied in FBX and USDZ format, making it possible to use them in most DCC software, including 3ds Max, Blender, Cinema 4D, Maya and Houdini, and game engines like Unity and Unreal Engine.
The kit includes four texture sets – light, brown, dark and old bricks – at resolutions up to 8,192 x 8,192px.
Commercial resources available at higher resolutions
ProductionCrate also hosts over 10,000 commercial assets, typically provided at higher resolutions than the free resources: 4K in the case of the stock effects.
Subscriptions currently cost $79/year for individuals, which entitles you to 50 downloads per day, or $299/year for studios, which provides access for five team members and up to 100 downloads per day.
Licence conditions
ProductionCrate's free assets are licenced for use in commercial projects: you can see the FAQs here and the full terms and conditions here.
You can download the assets by registering for a free account, which entitles you to five downloads per day.
The site encourages you to donate $15/month, and the registration process will take you to PayPal, but the donation is optional: if you look hard, there is a link to return to the site without payment.
Download free 3D models from RenderCrate
Tags: 3D models, 3ds max, 8K, Blender, building, castle, Cinema 4D, commercial use, download, environment art, environment asset, FBX, free, furniture, game art, game development, glossiness, Houdini, house, low-poly models, Maya, medieval, metallic, modular parts, motion graphics, OBJ, PBR, planet, ProductionCrate, RenderCreate, roughness, sound effect, spacecraft, specular, sports equipment, stock effect, street furniture, Texture Set, tower, Unity, Unreal Engine, USDZ, vehicle, vfx, VFX element, visual effects, wall