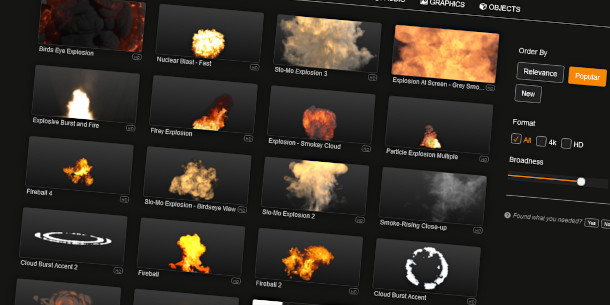 Online asset library ProductionCrate has updated its free content, adding new dust particle overlays to its selection of free stock effects clips available for use in commercial projects.
The site now has over 500 FX clips available free at HD resolution or above, including effects staples like explosions, smoke, muzzle flashes, blood splashes and energy effects.
Free stock FX clips and sound effects for motion graphics and VFX work
Founded in 2017, ProductionCrate provides a range of stock assets for motion graphics and visual effects work, particularly for content for online platforms like YouTube.
The FX clips are provided with alpha channels in losslessly compressed formats, including ProRes 4444 and H.264, at frame rates of 24, 29.97 or 30fps; and as sequences of PNG files.
Resolutions vary: most of the free assets are available at HD (1,920 x 1,080px) resolution, and a few at 4K resolution, the latter mainly motion graphics elements.
In addition, the site has a range of other free assets available to download, including low-poly 3D models and sound effects clips, including explosions, gunshots and combat sounds.
Commercial resources available at higher resolutions
ProductionCrate also hosts over 10,000 commercial assets, typically provided at higher resolutions than the free resources: 4K in the case of the stock effects.
Subscriptions currently cost $49/year for individuals, which entitles you to 50 downloads per day, or $299/year for studios, which provides access for five team members and up to 100 downloads per day.
Licence conditions
ProductionCrate's free assets are licenced for use in commercial projects: you can see the FAQs here and the full terms and conditions here.
You can download the assets by registering for a free account, which entitles you to five downloads per day.
The site encourages you to donate $10/month, and the registration process will take you to PayPal, but the donation is optional: if you look hard, there is a link to return to the site without payment.
Download free stock FX elements from ProductionCrate
Tags: 4K resolution, alpha channel, audio effect, blood splatter, commercial use, download, dust, energy effect, explosion, fire, FootageCrate, free, FX clip, gunshot, HD resolution, image sequence, licence conditions, muzzle flash, PNG, price, ProductionCrate, ProRes 4444, rain, smoke, snow, sound effect, stock effects, stock footage