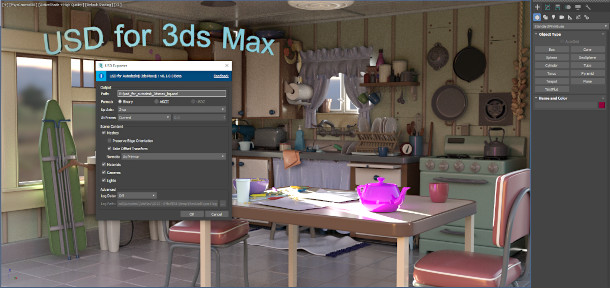 Originally posted on 13 May 2021. Scroll down for news of the USD for 3ds Max 0.3 update.
Autodesk has released the public beta of USD for 3ds Max, its new USD integration plugin for 3ds Max, the firm's 3D modelling and rendering software.
The plugin enables users to import and export data using the Pixar-developed Universal Scene Description format, including the meshes and materials in a scene.
An open standard for the exchange of complex scene data, widely embraced in VFX and animation
Since it was open-sourced in 2016, the Universal Scene Description framework has become part of many VFX and animation pipelines, and is also now being explored by game development studios.
3ds Max becomes the latest Autodesk app to get support for USD: Maya has had its own Maya USD plugin since 2019, which is now officially bundled with the software.
USD for 3ds Max: initial support for meshes and materials, but no lights or cameras yet
In the initial public beta, version 0.1, USD for 3ds Max isn't as feature-complete, but it does enable 3ds Max users to import and export data in USD format, including the .usda, .usdc and .usdz file types.
Although the screenshot of the USD Exporter embedded above shows options for meshes, materials, cameras and lights, only meshes and materials are actually supported in the 0.1 release.
In addition, geometry scattering via the UsdGeomPointInstancer is currently not supported.
Texture support is limited to bitmaps rather than texture graphs, and texture wrap and offset settings are currently not supported.

Updated 23 September 2021: Autodesk has released USD for 3ds Max 0.2.
Key changes in the update include support for exporting animation data, including node transform animations and vertex animation caches, and "basic support" for exporting splines.
Users can also choose whether to include hidden nodes when exporting to USD, and which map channel data to export.
Exported files are opened automatically in the default USDView viewer, which is now shipped with the plugin.

Updated 1 November 2022: Autodesk has released USD for 3ds Max 0.3.
The update introduces the USD Stage object, making it possible to reference entire USD scenes into 3ds Max, rather than having to load assets individually, as discussed in this blog post.
Its implementation is limited in the 0.3 release: there is no UI for browsing the data inside the USD Stage, and only geometry and USD Preview Surface materials are displayed in the viewport, not lights or cameras.
"Most modifiers" currently have no effect on a USD Stage Object, and it is not supported by "most renderers".
Technical artists also get a new 3ds Max USD SDK, provided as a separate beta download, which makes it possible to modify or extend the functionality of the USD Exporter using C++ or Python.
Pricing and system requirements
USD for 3ds Max is compatible with 3ds Max 2022+. It is a free beta for registered 3ds Max users.
3ds Max itself is available rental-only for Windows 10+. Subscriptions currently cost $225/month or $1,785/year. Many artists earning under $100,000/year qualify for Indie subscriptions, which cost $290/year.

Read more about USD for 3ds Max in the online documentation
Tags: 3D modeling, 3ds max, 3ds Max 2022, 3ds Max USD SDK, animation, C#, cameras, free beta, game development, instancing, lights, limitations, materials, meshes, new features, price, public beta, Python, restrictions, scattering, SDK, system requirements, Universal Scene Description, USD, USD export, USD for 3ds Max, USD for 3ds Max 0.1, USD for 3ds Max 0.2, USD for 3ds Max 0.3, USD import, USD stage, USDA, USDC, USDview, USDZ, vertex animation cache, vfx, visual effects