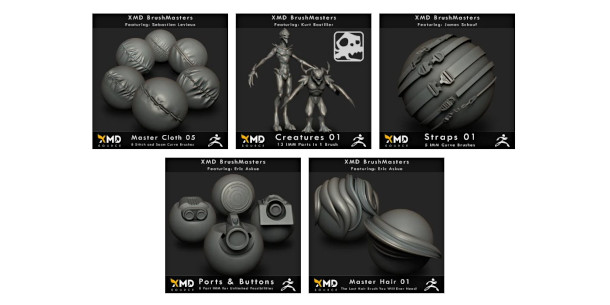 Environment artist Michael Dunnam has made five new sets of custom ZBrush brushes available to download for free from his website, XMD Source.
The packs, which include brushes for sculpting clothing, hair and machine parts, form part of XMD's new BrushMasters series, and were created by well-known ZBrush artists.
New ZBrush brush packs for sculpting hair, stitching, buckles and straps
The free brush packs mainly consist of ZBrush IMM Curve Brushes with inserts that can be swapped in and out to sculpt different forms. The new packs are:
Master Hair 01
For sculpting: Hair and fur
Contents: 1 x IMM Curve Brush with 19 inserts (6 core hair curves, 13 detailing curves)
Creator: Eric Askue
Creatures 01
For sculpting: Creatures
Contents: 1 x IMM Curve Brush with 13 inserts (two complete creature sculpts)
Creator: Kurt Boutilier
Master Cloth 05
For sculpting: Stitching and seams in cloth
Contents: 8 x Curve brushes
Creator: Sébastien Levieux
Straps 01
For sculpting: Straps and buckles on clothing and props
Contents: 1 x IMM Curve Brush with 5 inserts
Creator: James Schauf
Ports & Buttons 01
For sculpting: Ports and buttons for machinery
Contents: 1 x 8-part IMM Brush for creating Boolean forms, 1 x IMM Brush for buttons
Creator: Eric Askue
Over 200 other free custom ZBrush brushes, from all-purpose tools to kitbashing sets
By our count, XMD Source also contains over 200 other free brushes, ranging from all-purpose tools like the Stroke 01 collection to complex IMM brushes intended for kitbashing concept sculpts.
Individual sets are themed around subject matter ranging from mechanical parts to skin and ground textures.
The site also contains commercial resource sets, which you can access by taking out a paid subscription. Subscriptions cost $49.95/year or $69.95 for lifetime membership and include brush organisation plugin XMD Toolbox 2.0.
Availability and system requirements
XMD Source's ZBrush brushes are supplied in ZBrush's native ZBP format. The brushes are licensed for use in commercial work.
To download the free content, you will need to sign up for free membership on the site, then add the individual assets to your shopping cart.
Download free custom ZBrush brushes from XMD Source
Tags: brush, button, character design, cloth, clothing, commercial use, creature design, custom brush, digital sculpting, download, Eric Askue, free, fur, game art, game development, hair, IMM brush, IMM Curve brush, InsertMultiMesh, James Schauf, kitbashing, Kurt Boutilier, machine part, Michael Dunnam, plugin, port, Sébastien Levieux, stiching, vfx, visual effects, wrinkle, XMD, XMD Source, XMD Source 2.0, ZBP, ZBrush