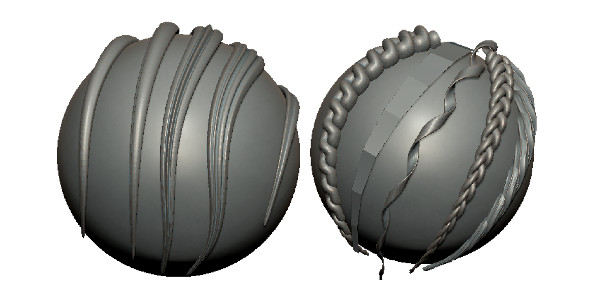 Environment artist Michael Dunnam has released a set of 61 free ZBrush IMM brushes designed for adding moulded hair to character sculpts.
The brush set comprises 14 IMM brushes for sculpting straight strands of hair, each with four individual variations; three for braids; one for curly hair; and a 'hair card curve' for modelling hair as poly strips.
All of the brushes are supplied in ZBrush's native ZBP format.
More commercial brushes, plus discounts on current and future products
The brush set is the third by Dunnam we've featured in the past few weeks. His other free packs include brushes for sculpting monster spikes and fins, and for everything from scales to zips and stitching.
Dunnam also has a range of commercial packs available in his Gumroad store via the link below, and regularly offers discounts on lifetime membership, which provide access to over 450 existing brushes and textures for ZBrush, 3D-Coat and Substance, plus all of Dunnam's future commercial releases.

Download Michael Dunnam's 61 free ZBrush IMM brushes for sculpting hair
View commercial brush sets or take out lifetime membership in Dunnam's Gumroad store
Tags: braid, brush, character modeling, download, free, hair, IMM, Michael Dunnam, sculpting, strand, ZBP, ZBrush