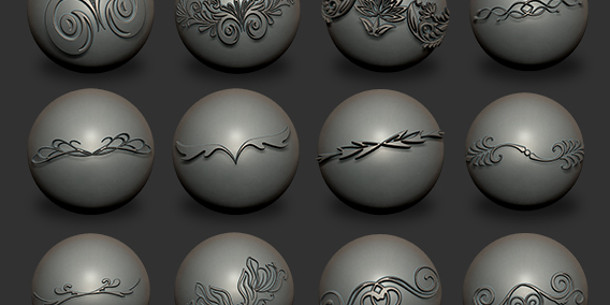 Environment artist Michael Dunnam is giving away 25 of his XMD custom brushes for ZBrush free to anyone entering his A Vintage Journey sculpting challenge.
In addition, Dunnam has 196 further free brushes, designed for sculpting details ranging from from stitches and zips in clothing to mech parts and dragon skin, available via his Gumroad store.
Contest entrants get commercial brushes and HDRIs for free
Entrants to the challenge get two sets of Dunnam's Premium XMD brushes, normally sold for $10, for free.
The Premium Master Cloth Set comprises 13 brushes designed for sculpting folds and wrinkles in cloth, while the Premium Flourish Set comprises 12 brushes for decorative borders.
All are supplied in ZBrush's native ZBP format, and a licensed for use in commercial work.
Contest entrants also get 20 HDR images from Kungfujackrabbit Studio, normally sold for $20, for use in their final renders.
The images, which were shot in San Francisco, Singapore and Atlanta, are provided in lat-long format, and are at least 7,500 x 3,500 pixels in size.
Contest entry and download instructions
To download the two sets of XMD Premium brushes, you need to register as an entrant in the A Vintage Journey sculpting challenge before 17 October 2016.
Updated: The deadline has now been extended to 21 October 2016.
Entrants are then emailed download links for the premium brushes and Kungfujackrabbit Studio HDRIs.
To enter the contest itself, you'll need to sculpt a character or environment with a futuristic Art Nouveau theme, and post your work in progress in a thread on Polycount.
The piece must make use of both ZBrush and the XMD brushes, but doesn't need to be created entirely in ZBrush.
The three winning entries in each category also get some great prizes, including more commercial brushes and HDRIs, plus subscriptions to The Gnomon Workshop's training courses.
You don't need to enter the contest to download the 196 free brushes.

Enter the A Vintage Journey sculpting challenge
(Registration required; entrants are emailed download links for 25 Premium ZBrush custom brushes)
Download 196 further free custom ZBrush brushes from Michael Dunnam's Gumroad store

Full disclosure: CG Channel is owned by Gnomon – School of Visual Effects, Games and Animation.
Tags: A Vintage Journey, alpha, challenge, character, cloth, commercial use, contest, custom brush, detail, download, dragon skin, environment, flourish, fold, free, HDRI, Kungfujackrabbit Studio, mech, Michael Dunnam, Premium Flourish, Premium Master Cloth, sculpting, skin, subscription, terrain, The Gnomon Workshop, Training, wrinkle, XMD, ZBP, ZBrush, zip