Adobe has released Photoshop 23.0, the latest version of its image-editing and digital painting software.
It's a wide-ranging update, with new features including the simply to click on an object in an image to mask it, and an AI-based filter for changing the season or time of day in an image in concept art and matte painting.
Other changes range from a new text engine and better colour gradients to new collaboration tools and plugins, and a new Content Credentials system to combat image theft and deepfakes.
Adobe has also released Photoshop on the the iPad 3.0, and launched Photoshop on the web, a new service enabling users to view and edit Photoshop files without opening the desktop app.
The update was one of several to Adobe's Creative Cloud tools announced at Adobe MAX 2021, alongside After Effects 22.0, Character Animator 22.0 and Premiere Pro 22.0.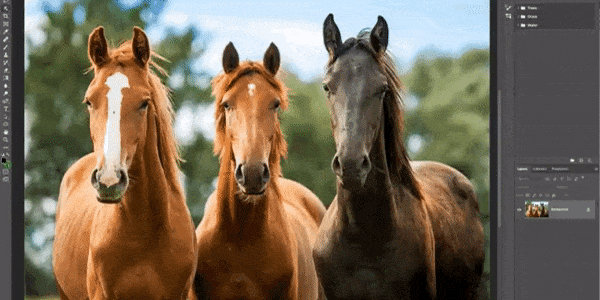 Select and mask images in an image with a single click
Key changes in Photoshop 23.0 include the update to the Object Selection tool.
Rather than having to marquee- or lasso-select an object in an image manually, users can now simply click on it, and Photoshop will automatically select it, as shown in the video above.
According to Adobe, the AI-trained system detects "most … but not all" types of objects within an image, and more categories of objects will be added in future.
In addition, a new Mask All Objects command automatically generates masks for all of the objects that Photoshop detects in an image: in the example above, generating separate masks for the three horses.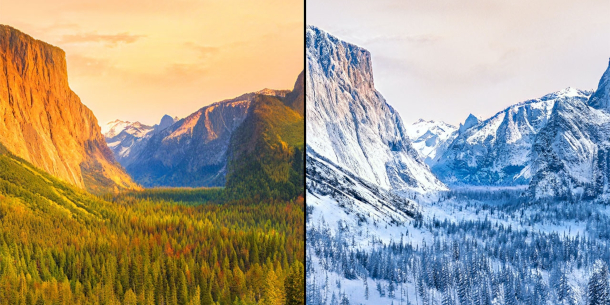 New Neural Filters for concept art and matte painting workflows?
Neural Filters, the new set of AI-trained image-manipulation filters introduced in Photoshop 22.0, also gets an update, including three new filters.
The most attention-grabbing is Landscape Mixer, which Adobe pitches as a way to create concept art, blending two existing landscape images to create a new one.
It's still in beta, and some of the examples in Adobe's blog post look too synthetic to be used as matte paintings directly.
However, smaller changes – like changing the season or time of day in an image – look more realistic, and can achieve results that would otherwise require a lot of manual editing, as in the image above.
The other new filters edge into the territory of third-party tools like MagicTints: Color Transfer automatically transfers the colour palette of one image to another.
Harmonization does a similar job, but within a single image, transferring colour and luminosity from one layer to another: for example, to match the lighting of a foreground object to that of a new background plate.


Workflow and performance improvements
Workflow improvements include the Unified Text Engine: a new text engine that provide improved text shaping controls for non-Latin scripts like Arabic and Hebrew, and better support for bi-directional text.
The Gradient tool gets new Perceptual and Linear interpolation methods, shown in the image above.
The Oil Paint filter has been rewritten to use DirectX and Metal for GPU acceleration rather than OpenCL – which is now deprecated in macOS – to improve performance, particularly on Macs.
The Export As command is also now "faster than ever" and gets a new option to preview the output of different export settings side by side, plus new behaviour for previewing layers.
In addition, interoperability with Illustrator has been improved, with vector shapes, paths and clipping masks created in Illustrator remaining editable when pasted into Photoshop.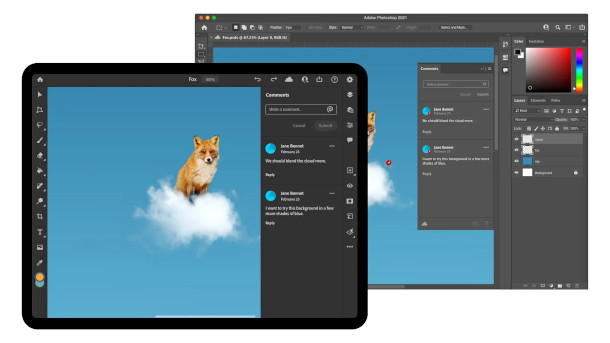 New collaboration and work-management tools
New collaboration tools include Share for Comments, which makes it possible to invite collaborators to add text comments to a Photoshop file by sharing it as a Cloud Document.
For a much more fully featured collaboration workflow, Photoshop also gets a new integration plugin for Workfront, the work management platform that Adobe acquired last year.
Experimental new Content Credentials system is intended to combat image theft and deepfakes
In addition, Photoshop 23.0 introduces a new beta feature called Content Credentials.
It's one of the first tangible results of Adobe's Content Authenticity Inititative, intended to combat content theft and misinformation by providing evidence of an image's provenance.
On opting in to the system, artists can link their social media profiles or crypto wallet to an image, identifying them as its original creator; or capture the image's edit history in its metadata, to identify future tampering.
You can read more about how the system works and how it is being integrated into other Adobe services like Behance and Adobe Stock in this blog post.
More smaller changes, too – but no 3D features any more
You can find a full list of changes via the link at the foot of the story, and a more detailed discussion in Adobe's blog post on Photoshop 23.0, Photoshop on the iPad 3.0 and Photoshop on the web.
However, one toolset not present in the release is the old 3D features, including 3D text, extrusion and lighting, which Adobe deprecated in Photoshop 22.5, and whose removal continues in Photoshop 23.0.
Pricing and system requirements
Photoshop 23.0 is available for Windows 10 and macOS 10.15+ on a rental-only basis. In the online documentation, the release is also referred to as the October 2021 update or Photoshop 2022.
Photography subscription plans, which include access to Photoshop and Lightroom, start at $119.88/year. Single-app Photoshop subscriptions cost $31.49/month or $239.88/year.

Read a full list of new features in Photoshop 23.0 in the online documentation
Tags: 3D features, Adobe, Adobe MAX 2021, AI-based, AI-trained, automatic object masking, cloud document, collaboration, color gradient, Color Transfer, Concept Art, Content Authenticity Initiative, Content Credentials, content theft, deepfake, deprecated, deprecated features, digital painting, DirectX, Export As, gradient tool, Harmonizer, illustration, illustrator, image editing, image theft, Landscape Mixer, linear interpolation, MagicTints, Matte Painting, Metal, Neural Filters, new features, object selection, October 2021, oil paint filter, OpenCL, perceptual interpolation, Photoshop, Photoshop 2022, Photoshop 23.0, Photoshop for IPad 3.0, Photoshop on the web, plugin, price, relighting, Share for Comments, system requirements, texturing, Unified Text Engine, vector mask, vector path, vector shape, Workfront