Adobe has released After Effects 22.0, the latest version of the compositing software, introducing its long-awaited new Multi-Frame Rendering system to speed up previews and final-quality renders.
Other changes include a reworked render queue with support for remote notifications, a new Speculative Preview system, and a Composition Profiler for troubleshooting performance bottlenecks.
For motion graphics work, Cinema 4D Lite, the cut-down version of Cinema 4D bundled with After Effects, has been updated to support the software's new Asset Browser.
The update was one of several to Adobe's Creative Cloud tools announced at Adobe MAX 2021, alongside Character Animator 22.0, Premiere Pro 22.0 and Photoshop 23.0.
Multi-Frame Rendering improves speed of previews and final-quality renders on multi-core CPUs
The main change in After Effects 22.0 is the long-awaited new Multi-Frame Rendering system, which Adobe originally released via a separate beta build of the software in March.
It enables the software to use all of the CPU cores in a user's workstation in parallel when rendering, speeding up both preview renders and final-quality export.
Artists can also use Multi-Frame Rendering when exporting compositions to Media Encoder.
The performance boost depends on the number of CPU cores available, system RAM and the user's GPU.
On a four- or six-core processor, Adobe predicts a 1.2-1.4x increase in render speed, rising to up to 4x on CPUs with 16 or more cores in systems with over 48GB of RAM.
All of After Effects' native effects are now compatible with Multi-Frame Rendering, along with third-party add-ons from Boris FX, FxFactory, Maxon/Red Giant and RE:Vision Effects. See a full list of compatible plugins.
Although superficially similar to the now-deprecated Render Multiple Frames Simultaneously, the system is quite different under the hood, using individual CPU cores to render multiple frames simultaneously, rather than launching multiple instances of After Effects, each rendering separate individual frames.
New Speculative Preview system and revamped Render Queue
Adobe has also introduced other new features based on Multi-Frame Rendering, including the new Speculative Preview system, intended to speed up the preview process.
Whenever a composition is idle for a set amount of time – by default, eight seconds – After Effects automatically begins rendering it in the background, leaving it ready to preview after a break.
The Render Queue system for final-quality export has also been reworked, and can now notify users when an individual job or the entire queue has finished rendering via the Creative Cloud desktop or mobile app.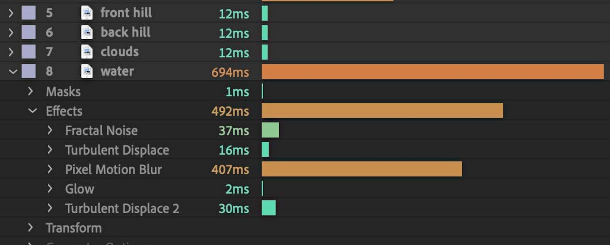 New Composition Profiler identifies render performance bottlenecks
After Effects 22.0 also features a new Composition Profiler, intended to help troubleshoot performance problems when rendering a composition.
It provides a numeric and visual breakdown of the render times for all the layers, effects, styles and masks in a composition, colour coding the bars to help identify performance bottlenecks.
Other changes include hardware-accelerated decoding for 10-bit 422 HEVC files and the option to choose the interpolation method – currently either Trilinear or Tetrahedral – used when applying 3D LUTs.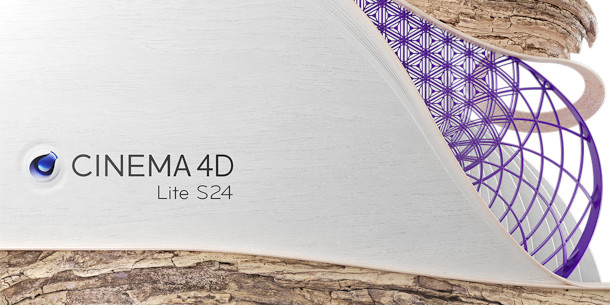 Cinema 4D Lite updated, but currently only compatible with Cinema 4D S24
Cinema 4D Lite, the cut-down version of Cinema 4D bundled with After Effects, has also been updated.
The new build features the new Asset Browser introduced earlier this year in Cinema 4D S24, along with a "specially curated" library of models, materials and other assets.
After Effects 22.0 itself is only compatible with Cinema 4D S24, although Cinema 4D R25, the current version of the software, is itself compatible with older versions of After Effects.
Updated 16 December 2021: Support for Cinema 4D R25 has been added in After Effects 22.1.
Separate public beta introduces Scene Edit Detection
Outside the stable release, Adobe has released a public beta build of After Effects with support for Scene Edit Detection. The AI-trained system, originally introduced in Premiere Pro, automatically identifies the original edit points in a video based on visual changes in the footage.
But why is it version 22.0?
Although the version number has jumped since After Effects 18.0, the last major version of the software, was released in March, you haven't actually missed After Effects 19.0, 20.0 and 21.0.
Instead, Adobe has introduced unified version numbering for its professional video and audio applications, with Audition, Character Animator, Media Encoder and Premiere Pro also getting 22.0 updates.
Adobe says that the change is intended to simplify the deployment of multiple apps in a creative pipeline with "users with any 22.x version [able to] work with any other 22.x".
Pricing and system requirements
After Effects 22.0 is available for Windows 10 and macOS 10.15+ on a rental-only basis. In the online documentation, the release is also referred to as the October 2021 update or After Effects 2022.
Subscriptions to After Effects alone cost $31.49/month or $239.88/year, while All Apps subscriptions, which provide access to over 20 of Adobe's creative tools, cost $79.49/month or $599.88/year.

Read a full list of new features in After Effects 22.0 in the online release notes
Tags: Adobe MAX 2021, After Effects, After Effects 22.0, AI-based, AI-trained, asset browser, Audition, Audition 22.0, automatically identify edit points, background rendering, beta, Character Animator, Character Animator 22.0, Cinema 4D Lite, Cinema 4D R25, Cinema 4D S24, compositing, Composition Profiler, Creative Cloud app, final-quality output, identify performance bottleneck, identify rendering bottleneck, Media Encoder, Media Encoder 22.0, motion design, motion graphics, multi-core CPU, multi-frame rendering, new features, performance profiler, Premiere Pro, Premiere Pro 22.0, preview, price, public beta, render multiple frames simultaneously, render queue, render queue notifications, rendering, Scene Edit Detection, Speculative Preivew, system requirements, troubleshooting, vfx, visual effects