Adobe has released After Effects 22.3, the latest version of the compositing software, integrating cloud-based video collaboration platform Frame.io for free.
The update also adds native support for Apple Silicon processors; an Extended Viewer, making it possible to preview 3D compositions beyond the frame boundaries; and automatic detection of scene edits.
Cloud collaboration platform Frame.io is now integrated directly into After Effects
The biggest change in After Effects 22.3 is the integration of post-production-industry-standard cloud-based video collaboration platform Frame.io, which Adobe acquired for over $1 billion last year.
Users can access Frame.io directly within After Effects, via the new Review workspace, making it possible for artists to share work in progress and receive feedback without having to leave the software.
Previous versions of After Effects integrated with Frame.io via a free extension.
Both All Apps and single-app After Effects subscription plans now include Frame.io for Creative Cloud, a new subscription tier midway between the existing Free and Pro plans.
It provides 100GB of Frame.io cloud storage, plus support for up to five projects, unlimited reviewers, file sharing, and Camera to Cloud with support for uploading via Teradek, Atomos, and Filmic Pro.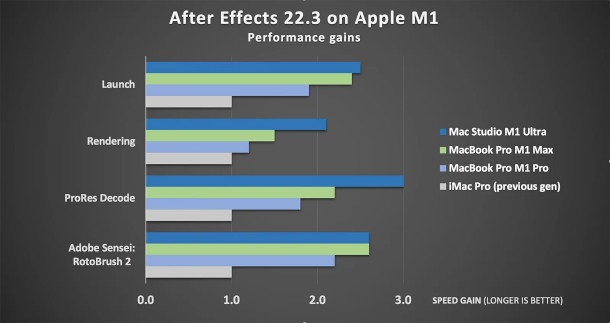 Native Apple Silicon support makes the software 'up to three times' faster on new Macs
After Effects also becomes the latest Adobe app with native support for Apple Silicon, improving performance on new Macs using Apple's M1 processors.
After Effects runs "twice as fast on M1 computer and up to three times faster on M1 Ultra Macs compared to previous generation systems" with particular benefits for machine-learning-based features like Roto Brush 2.
Almost all of the kinks have been ironed out since M1 support was rolled out in beta last year, with the only major current limitation being lack of support for the GoPro CineForm codec.
The Extended Viewport, out of beta in After Effects 22.3, makes it easier to work in Draft 3D preview mode by making it possible to view outlines of content that extends beyond the frame boundaries of a comp.

New Extended Viewport for 3D comps, plus automated scene edit detection
Other changes include the Extended Viewport, intended to make it easier to work in the Draft 3D preview mode added in After Effects 18.0 by letting users view content that extends beyond the frame boundaries.
3D layers also get Binning Indicators, showing which groups of layers will be rendered in the same 3D space, enabling them to intersect and cast shadows on one another.
In addition, Premiere Pro's popular AI-trained scene edit detection system has been ported to After Effects.
The feature automatically identifies the original cut points in imported videos, reducing the need to go through and identify them manually before starting to edit the video.
Users can opt to have After Effects add layer markers at each edit point, or to split each scene onto a separate layer in the timeline.
Pricing and system requirements
After Effects 22.3 is available for Windows 10 and macOS 10.15+ on a rental-only basis. In the online documentation, the release is also referred to as the April 2022 update.
Subscriptions to After Effects alone cost $31.49/month or $239.88/year, while All Apps subscriptions, which provide access to over 20 of Adobe's creative tools, currently cost $79.49/month or $599.88/year.
Adobe has announced that the price of monthly All Apps subscriptions will rise on 27 April 2022.

Read a full list of new features in After Effects 22.3 in the online release notes
Read Adobe's FAQs about Frame.io for Creative Cloud
Tags: 3D compositing, 3D Draft preview, 3D layer, Adobe, After Effects, After Effects 22.3, Apple Silicon, April 2022, automatically identify edit points in video, binning indicator, CineForm, cloud-based, collaboration, compositing, Draft 3D preview, Extended Viewport, Frame.io, Frame.io for Creative Cloud, Frame.io integration, M1, motion design, motion graphics, native M1 support, new features, Premiere Pro, preview, price, Scene Edit Detection, shape layer, shot review, system requirements, vfx, visual effects