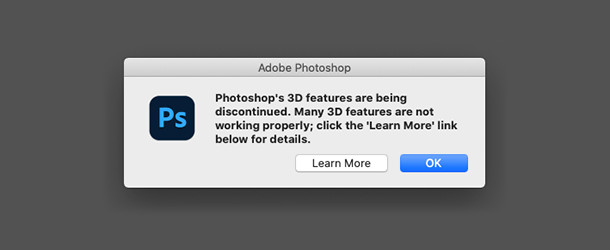 Adobe has discontinued the 3D features in Photoshop, including the option to import and export 3D files, 3D lighting effects, 3D text and extrusions, and spherical panorama editing.
Work on removing the code has already begun in Photoshop 22.5, the latest release of the software, although it is still possible to use the 3D features for a "short time".
A basic set of 3D features aimed mainly at graphic design workflows
First rolled out a decade ago, Photoshop's 3D engine made it possible to carry out a number of basic 3D operations within the otherwise 2D image editing and digital painting software.
In practice, we imagine that few people used Photoshop primarily to create 3D images – 3D artists have other options, and graphic designers have newer Adobe tools like Dimension and Substance 3D Stager.
However, the functionality did make it possible to use effects like 3D text, extrusion and lighting in graphic design workflows, and to use 3D models as sources for Smart Objects.
Too costly to update for modern graphics APIs?
In its online FAQs, Adobe attributes the decision to discontinue Photoshop's 3D features to the difficulty of porting the toolset to current graphics APIs.
When it was developed, it was possible to use OpenGL for GPU acceleration on both Windows and macOS.
Since then, Apple has deprecated support for OpenGL in favour of its own Metal API, meaning that tools developers now need to support separate APIs for Windows and Mac users.
In addition, Adobe now has its own range of dedicated 3D software, the Substance 3D Collection, having acquired Allegorithmic in 2019.
Faced with the choice between a doubling of development effort to create an up-to-date version of what, for many Photoshop users, is a secondary toolset, and simply directing people to its newer 3D applications, Adobe has – perhaps not surprisingly – chosen the latter.
According to the FAQs, the firm has no "concrete plans" to reintroduce advanced 3D features in Photoshop.
3D functionality still available via Photoshop 22.2 for "up to two years"
For anyone who does use Photoshop's 3D features on a regular basis, they will remain available in the current build for a "short time" by activating a preference setting.
Photoshop 22.2, the last release of the software to fully support the functionality, will remain available via Adobe's Creative Cloud Desktop app for "up to two years".
At present, it isn't possible to have both Photoshop 22.2 and a newer build of the software installed on a single machine, but Adobe says that it will make toggling between versions easier in future.
It will also be possible to import Photoshop files containing 3D layers into future versions of the software, although doing so will rasterise the layer, making the 3D content non-editable.
Pricing and system requirements
Photoshop is available for Windows 10 and macOS 10.14+ on a rental-only basis.
Photography subscription plans, which include access to Photoshop and Lightroom, start at $119.88/year. Single-app Photoshop subscriptions cost $31.49/month.
Read Adobe's FAQs about its decision to discontinue the 3D features in Photoshop
Tags: 3D features, 3D lighting, 3D text, Adobe, Adobe Dimension, bump map, Concept Art, DirectX, discontinued features, export 3D model, extrusion, FAQs, graphic design, illustration, illustrator, image editing, image processing, import 3D model, macOS, Metal, normal map, OpenGL, Photoshop, Photoshop 22.2, Photoshop 22.5, price, replacement for Photoshop's 3D features, Smart Object, spherical panorama, Substance 3D Collection, Substance 3D Stager, system requirements, Windows, workaround for Photoshop's 3D features