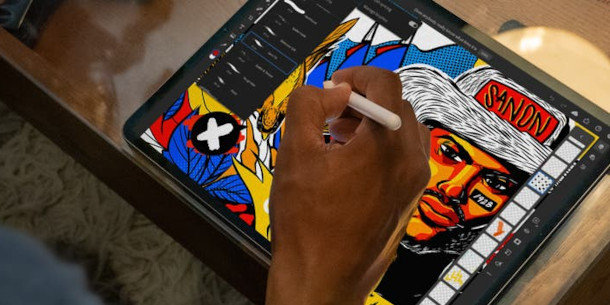 Adobe has launched the Adobe Design Mobile Bundle, a new subscription plan providing access to the iPad editions of Photoshop and Illustrator and digital painting app Fresco for $14.99/month or $149.99/year.
The bundle also includes social graphics app Spark Post, plus 100GB of cloud storage and access to shared Adobe services including Adobe Fonts, Adobe Portfolio and Behance.
Cheaper than individual subs, but pricier than rival products with perpetual licences
The new bundle deal provides an all-in-one subscription to Adobe's key mobile apps for illustration, concept art and graphic design: Photoshop on the iPad, Illustrator on the iPad and Fresco, plus Spark Post.
By Adobe's standards, it's pretty affordable: $14.99/month all-in, as opposed to four individual sets of in-app payments of $9.99/month; or $31.49 for a Photoshop Single App subscription, which includes Photoshop on the iPad and Fresco, plus $31.49 for an Illustrator Single App subscription.
However, it's still more expensive than the apps' main commercial rivals: Serif's Affinity Photo and Designer in the case of Photoshop and Illustrator, and Savage Interactive's Procreate in the case of Fresco.
At the time of writing, their perpetual iOS licences all cost $9.99, making it possible to buy all three apps outright for the cost of a two-month subscription to the Adobe Design Mobile Bundle.
Pricing and system requirements
Photoshop on the iPad is available for iPadOS 13.4+. Illustrator on the iPad and Fresco are available for iPadOS 13.0+. Spark Post is available for iPadOS 12.2+.
Fresco and Spark Post are also compatible with iPhones; and Spark Post with iPod touch.
An Adobe Design Mobile Bundle subscription, which provides access to all four apps, plus the Creative Cloud services listed in the story, costs $14.99/month or $149.99/year.
Read more about the Adobe Mobile Design Bundle on the product website
Tags: Adobe, Adobe Fonts, Adobe Mobile Design Bundle, Adobe Portfolio, Affinity Designer, Affinity Photo, Behance, bundle deal, Concept Art, digital paiting, Fresco, graphic design, illustration, illustrator, Illustrator on the iPad, image editing, iOS, iPad, iPadOS, iPhone, mobile, perpetual licence, Photoshop, Photoshop on the iPad, price, Procreate, Savage Interactive, Serif, social graphics, Spark Post, subscription, system requirements, vector design