Originally posted on 21 October 2020. Scroll down for news of the 2.7 update.
Adobe has released Fresco 2.0, the latest version of its digital drawing and painting tool, making the app compatible with current iPhones as well as iPads and Windows tablets.
The update also adds support for text, new Smudge and Ribbon brushes, updates layer workflow, and adds new livestreaming, collaboration and version management tools.
The new version was launched at Adobe MAX 2020, alongside After Effects 17.5, Character Animator 3.4, Photoshop 22.0, Photoshop for iPad 2.0, and updates to Adobe's other Creative Cloud tools.
Blending AI-driven natural media effects with raster and vector tools
First released last year, Fresco combines Photoshop's brush engine with new natural media functionality.
Its Live Brushes system draws on Sensei, Adobe's machine learning system, to recreate the behaviour of real oil and watercolour paint.
In addition, Fresco has a range of more conventional pixel brushes – according to Adobe, there are over a thousand Photoshop brushes – including sets replicating dry media like pencil and pastel, ink and marker.
There is also a limited range of vector brushes, with the option to export documents directly to Illustrator for further vector editing.
It has a layers system supporting grouping, layer masks, and all of the same blending modes as Photoshop, plus basic selection functionality and colour adjustments.
For interoperability with other software, Fresco exports in PSD, PDF and PNG format.


New in Fresco 2.0: new smudge tool, ribbon brushes and text support
To that, Fresco 2.0 adds a new Smudge tool for blending previous paint strokes together. All of the built-in brushes, and any Photoshop brush from Adobe's Creative Cloud libraries, can be used as smudge brushes.
In addition, it now supports Ribbon brushes created in Capture, Adobe's free vector converter app.
The update also adds a new text system with support for a basic range of typographic properties, including font size and style, kerning and tracking.
Other new features include a Pressure curve editor to customise the way that stylus pressure affects the thickness of on-screen strokes; and the option to multi-select and multi-edit layers.
In-app collaboration, version history and livestreaming tools
Outside the creative tools, Fresco 2.0 introduces a new commenting system, making it possible to share a document with clients or collaborators, and receive notes directly inside the app.
The update also introduces a new in-app version history system for cloud documents, making it possible to revert to previous versions of a document saved to the cloud.
As with Photoshop for iPad 2.0, Fresco also gets a new livestreaming system, making it possible to stream footage of both yourself and the document you are working on to Behance, Adobe's portfolio site.
In addition, the app is now available for iPhones as well as iPads: Adobe describes the interface and workflow as having been "reimagined" for use on smaller screens.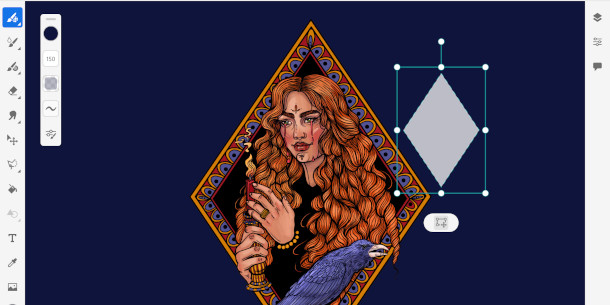 Updated 11 May 2021: Adobe has released Fresco 2.5.
The update redesigns the app's Shapes panel to focus on shapes recorded with Capture, making basic polygonal shapes like circles and polygons stencils instead.
In addition, vector brush strokes now generate fewer anchor points, making them easier to edit.
Since our original story, Adobe has also added the option to add your own fonts to the app, and to preserve text formatting when copying and pasting text.
Workflow improvements include the option to drag and drop multiple layers at once, and a zoom slider to adjust the magnification of artwork.
Users also get two new packs of readymade pixel brushes created by Kyle T Webster.
You can see a complete list of features added between Fresco 2.1 and 2.4 in the online changelog.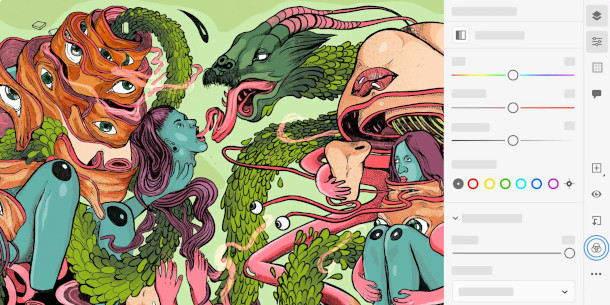 Updated 21 July 2021: Adobe has released Fresco 2.7.
It's a sizeable update, adding support for masks on Vector and Type layers as well as Image layers; and support for Photoshop-style Adjustment layers in the iPad and Windows editions.
iPad and Windows users get new graph grids and alignment guides for positioning images more precisely.
Windows users also get access to the full set of brushes and vector shapes available on iPad and iPhone.
Pricing and system requirements
Fresco 2.7 is available for iOS 13.0+ and Windows 10. It is now compatible with any Windows device using a Surface Pen or Wacom Pro Pen, and runs on AMD, Intel and Nvidia GPUs. See full system requirements.
The base app is free, but the premium features cost $9.99/month. The premium edition is also available as part of Photoshop Single App subscriptions, at $31.49/month, or All App subscriptions, at $79.49/month.
Read a full list of new features in Fresco in the online documentation
Tags: Adjustment Layer, Adobe, Adobe Capture, Adobe MAX 2020, AI-based, alignment guide, Behance, blending mode, brush pack, cloud document, color adjustment, commenting, custom font, digital painting, document review, drawing, edit brush stroke, font size, font style, Fresco, Fresco 2.0, Fresco 2.1, Fresco 2.2, Fresco 2.3, Fresco 2.4, Fresco 2.5, Fresco 2.6, Fresco 2.7, grid, illustrator, iOS, iPad, iPhone, kerning, Kyle T Webster, layer group, layer mask, layers, livestreaming, natural media, new features, PDF, Photoshop, Photoshop brushes, Photoshop for iPad 2.0, Pixel brush, PNG, pressure curve editor, pressure sensitivity, price, PSD, ribbon brush, Sensei, shapes panel, smudge brush, Smudge tool, system requirements, text, text formatting, tracking, type layer, typography, vector brush stroke, vector brushes, vector layer, vector shape, version history, Windows