Adobe has released Fresco 3.0, the latest version of its digital drawing and painting app for iPad, iPhone and Windows tablets, adding the option to create simple animations from static artwork.
The update also adds built-in 3D perspective grids and the option to add jitter to vector brushes.
Blending AI-driven natural media effects with raster and vector tools
First released in 2019, Fresco combines Photoshop's brush engine with new natural media functionality.
Its Live Brushes system draws on Sensei, Adobe's machine learning system, to recreate the behaviour of real oil and watercolour paint.
In addition, Fresco has a range of more conventional pixel brushes – according to Adobe, there are over a thousand Photoshop brushes – including sets replicating dry media like pencil and pastel, ink and marker.
There is also a limited range of vector brushes, with the option to export documents directly to Illustrator.
It has a layers system supporting grouping, layer masks, and all of the same blending modes as Photoshop, plus basic selection functionality and colour adjustments.
For interoperability with other software, Fresco exports in PSD, PDF, PNG and JPG format.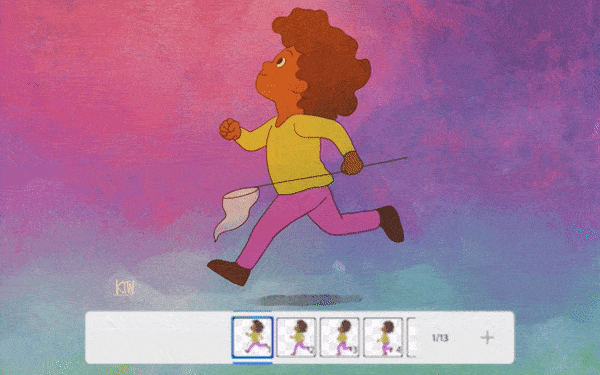 Fresco 3.0: Create simple animations frame by frame, or with motion paths
To that, Fresco 3.0 adds the option to add motion to static images, either by creating each frame of the animation manually, or by setting objects to move automatically along motion paths.
As well as adjusting the speed at which the animated object moves, users can control whether it rotates to align to the path, or scatter multiple copies of the object along the path.
Completed animations can be exported in MPF, GIF or PNG format.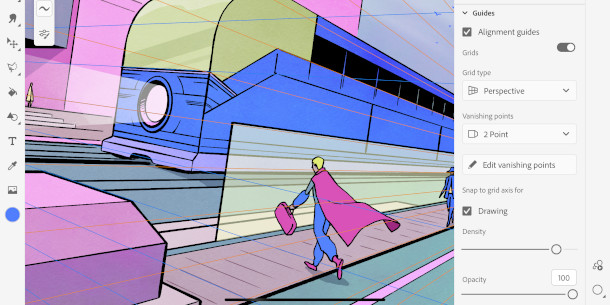 Customisable perspective grids help to compose images accurately
Building on the new 2D composition grids introduced in Fresco 2.7, the update also introduces perspective grids to help compose images with one-, two- or three-point perspective.
Users can drag on the screen to move the vanishing points of the grid around to customise the view.
When drawing, vector shapes can be snapped automatically to the grid, and made to deform automatically to follow its perspective when moving them around the screen.
The update makes it possible to apply jitter to vector as well as raster brushes.
Pricing and system requirements
Fresco 3.0 is available for iOS 14.0+ and Windows 10. It is compatible with any Windows device using a Surface Pen or Wacom Pro Pen, and runs on AMD, Intel and Nvidia GPUs. See full system requirements.
The base app is free, but the premium features cost $9.99/month. The premium edition is also available as part of Photoshop Single App subscriptions, at $31.49/month, or All App subscriptions, at $79.49/month.
Read a full list of new features in Fresco in the online documentation
Tags: Adobe, animation, app, Concept Art, digital drawing, digital painting, Fresco, Fresco 3.0, grid, illustration, illustrator, jitter, Live Brushes, motion path, natural media, new features, perspective, Photoshop, price, system requirements, vanishing point, vector design, vector shape