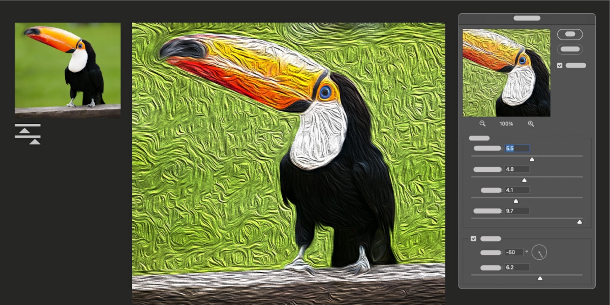 Adobe has released Photoshop 23.2, the latest version of its image-editing and digital painting software. The update adds native support for images in WebP format, and improves performance of the Oil Paint filter.
Native WebP support and better GPU support in the Oil Paint filter
The main change in Photoshop 23.2 – also referred to as the February 2022 in the online documentation – is native support for WebP, Google's increasingly popular new format for still images online.
Users can now import, edit, create or save images in .webp format in Photoshop without the need to install Google's free WebPShop plugin, as in previous versions of Photoshop.
Other changes include a rewrite of the Oil Paint filter to "greater advantage of native GPU resources", and minor workflow improvements when sharing access to cloud documents.
Pricing and system requirements
Photoshop 23.2 is available for Windows 10 and macOS 10.15+ on a rental-only basis.
Photography subscription plans, which include access to Photoshop and Lightroom, start at $119.88/year. Single-app Photoshop subscriptions cost $31.49/month or $239.88/year.

Read a full list of new features in Photoshop 23.2 in the online documentation
Tags: Adobe, cloud document, collaboration, Concept Art, digital painting, February 2022, Google, illustration, image editing, Matte Painting, native WebP support, new features, oil paint filter, Photoshop, Photoshop 23.2, plugin, price, system requirements, texturing, WebP, WebPShop