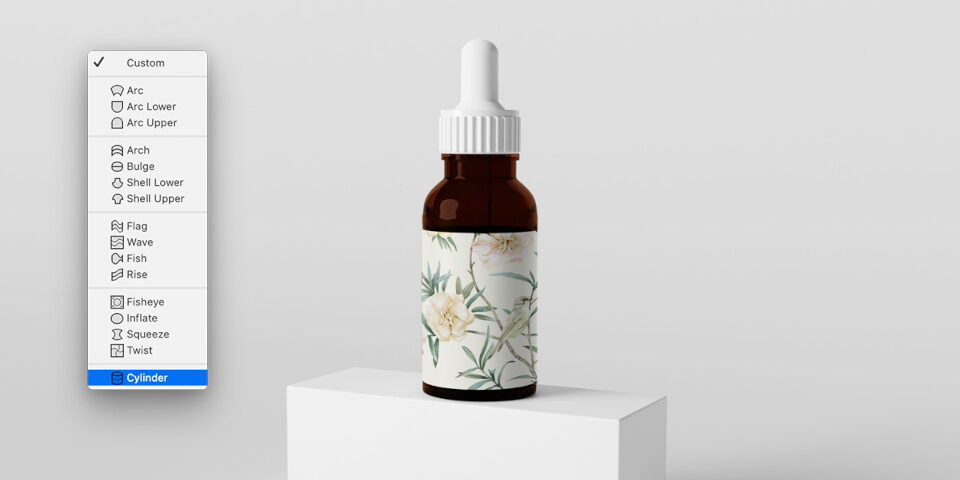 Adobe has released Photoshop 23.4, the latest version of its image-editing and digital painting software.
The update adds a Cylinder Transform Warp for curving flat artwork onto cylindrical surfaces for packaging design, improves selection of hair with the Object Selection tool, and makes guides more customisable.
In addition, video playback inside Photoshop is now supported natively on Apple Silicon processors.
New Cylinder Transform Warp for packaging design
The new feature in Photoshop 23.4 is the new Cylinder option in Transform > Warp, which deforms an image as if it were being mapped over the surface of a cylinder.
The feature is intended for packaging design, for mocking up artwork on the surface of bottles and cans.

Better hair selection with the Object Selection tool, improved workflow for guides
When isolating people from the backgrounds of images, the basic Object Selection tool now automatically identifies portraits and applies hair refinements to generate a mask "as good as that [from] Select Subject".
Other updates to existing features include the option to set custom colours for guides, to multi-select guides to move them, and new keyboard shortcuts for editing and deleting guides.
In addition, it is now possible to use emojis in in-app comments to Photoshop cloud documents.
The update also adds native support for video editing and playback inside Photoshop on Macs with Apple M1 processors: the major feature missing when M1 support was originally introduced last year.
Pricing and system requirements
Photoshop 23.4 is available for Windows 10+ and macOS 10.15+ on a rental-only basis. In the online documentation, the update is also referred to as the June 2022 release.
Photography subscription plans, which include access to Photoshop and Lightroom, start at $119.88/year. Single-app Photoshop subscriptions cost $31.49/month or $239.88/year.

Read a full list of new features in Photoshop 23.4 in the online documentation
Tags: Adobe, Apple Silicon, Concept Art, Cylinder Transform Warp, Cylinder warp, digital painting, guides, hair selection, illustration, image editing, isolate person from background, June 2022, M1, new features, object selection, packaging design, Photoshop, Photoshop 23.4, price, product design, retouching, system requirements, texturing, video editing, video playback