Wednesday, March 10th, 2021

Posted by Jim Thacker
Photoshop now runs natively on Apple Silicon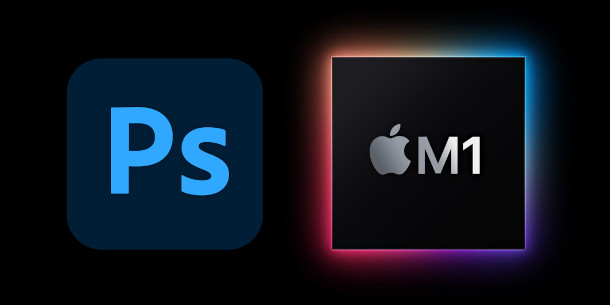 Photoshop has become the latest CG app to introduce native support for the new Apple Silicon processors.
The March 2021 release of the image-editing and digital painting software now runs natively on Macs using Apple's new M1 chip "with 1.5X the speed of similarly configured previous generation systems".
Still issues with video layers and the 3D tools, but okay for standard image editing
When running Photoshop on a machine with an M1 processor, users can choose to launch the application in native mode or via Rosetta, Apple's translation environment.
Neither is completely problem-free: there are several Photoshop features not yet supported in native mode, the most notable being import, export and playback of embedded video layers.
And while Photoshop's 3D features will work in native mode, they haven't yet been optimised for the new hardware, so Adobe currently recommends running them under Rosetta.
Running in Rosetta also has its own issues, including problems with exporting SVG and GIF files: you can find a complete list via the link below.
However, the functionality of native mode has now advanced enough for Adobe to roll it out in the stable release, rather than as a separate beta build – and for most standard image-editing tasks, it should be considerably faster if you're using a machine with an M1 chip, like the new MacBook Pro and MacBook Air.
Pricing and system requirements
Photoshop 22.3 is available for Windows 10 and macOS 10.14+ on a rental-only basis.
Photography subscription plans, which include access to Photoshop and Lightroom, start at $119.88/year. Single-app Photoshop subscriptions cost $31.49/month.
Read more about which Photoshop features are supported on Apple Silicon on Adobe's website