Adobe has released Photoshop 22.2, the latest update to its image-editing and digital painting software, adding new options to invite others to edit cloud documents, and to sync presets to the cloud.
The release also adds new control options for vector shapes to the Shape Properties panel.
The tablet edition of the software gets a smaller update, with Photoshop on the iPad 2.1 just adding the option to invite other users to edit cloud documents.
New cloud workflow options for editing documents and storing presets
Photoshop 22.2 and Photoshop on the iPad 2.1 are primarily workflow updates, with both apps getting the option to invite other people to edit documents saved to the cloud.
Anyone invited to edit gets an email notification with a link to the document.
As well as Photoshop, the Invite to Edit feature has been added to sister applications Illustrator, Fresco, Adobe's new drawing and painting app, and XD, its UI/UX design tool.
Users of the desktop edition of Photoshop also get the option to sync presets like brushes and swatches to their Creative Cloud account, for use on other machines.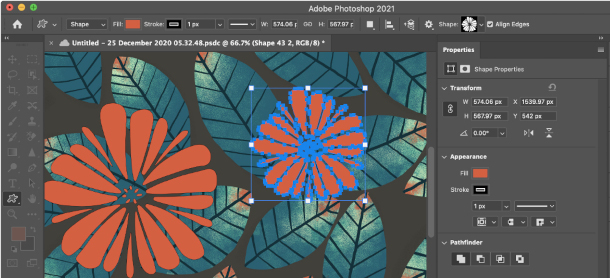 More control options for vector shapes
The desktop edition also gets new control options for vector shapes created with the Custom Shape Tool, with the Shape Properties panel getting settings to control shape dimension, orientation, fills and strokes.
Artists can also use on-canvas transform controls on custom shapes while keeping shape properties intact.
The release notes also namecheck new cameras and lenses supported in Adobe Camera Raw, although they were added in December 2020 in the preceding Photoshop 22.1 update.
Pricing and system requirements
Photoshop 22.2 is available for Windows 10 and macOS 10.14+ on a rental-only basis. In the online documentation, the release is also referred to as the February 2021 update.
Photography subscription plans, which include access to Photoshop and Lightroom, start at $119.88/year. Single-app Photoshop subscriptions cost $31.49/month.
Photoshop for iPad 2.1 is available for iOS 13.4+. It costs $9.99/month via in-app purchases, or is available as part of Photoshop or All Apps subscriptions.

Read a full list of new features in Photoshop 22.2 in the online documentation
Read a full list of new features in Photoshop on the iPad 2.1 in the online documentation
Tags: Adobe, Adobe Camera Raw, cloud document, collaborative editing, collaborative workflow, Custom Shape Tool, December 2020, digital painting, image editing, invite to edit, iOS, new features, Photoshop, Photoshop 22.1, Photoshop 22.2, Photoshop for iPad, Photoshop for iPad 2.1, Photoshop on the iPad, Photoshop on the iPad 2.1, price, Shape Properties, sync presets, system requirements, vector shape