Apple is to ditch Intel CPUs in Macs in favour of its own ARM-based processors, the company announced during yesterday's keynote for its WWDC20 developer conference.
The firm says that the switch to its own Apple Silicon SoCs will improve performance for processor-intensive graphics software on its desktop and portable machines like the Mac Pro and MacBook Pro.
During the keynote, Apple's own Final Cut Pro, Adobe's Photoshop and Autodesk's Maya were shown running on the new hardware, either natively or under emulation.
Other software developers to have announced native support for Apple Silicon include Unity Technologies and Otoy, while Apple itself is doing "some of the initial work" to get Blender running on the new chips.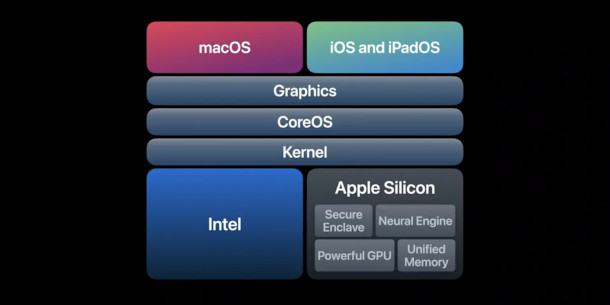 The Apple Silicon architecture: better performance, power consumption and new CG-friendly features?
The move to ARM-based processors is the third major change of CPU architecture for desktop Macs, following the introduction of PowerPC chips in the mid-1990s and Intel x86 CPUs in the mid-2000s.
The transition, which is expected to take place over the next two years, will switch out Intel CPUs for Apple's own ARM-based designs, already used in the iPhone and iPad.
During the keynote, Apple described it as a "huge leap forward for the Mac", both in terms of performance – particularly performance-per-Watt – and functionality.
Features of the Apple Silicon architecture particularly relevant to graphics applications include a unified memory architecture for GPU and system RAM, and a new "neural engine".
Apple didn't go into detail during the keynote, but one demo showed a new AI-powered automatic cropping system in Final Cut Pro, similar to the Auto Reframe system Adobe introduced in Premiere Pro last year.
In addition, the move provides a common CPU architecture for Apple's desktop and mobile devices, meaning that iOS apps should run natively on macOS.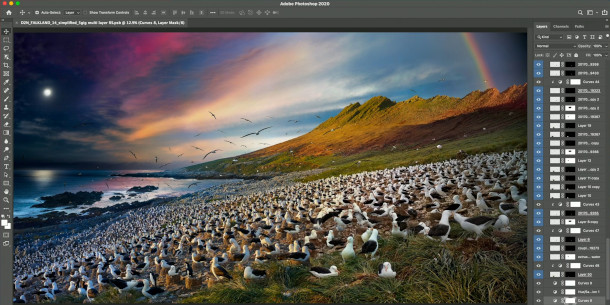 Adobe Creative Cloud apps like Photoshop 'already running great' on Apple Silicon
Apple has already converted all of its own apps, including Final Cut Pro, to run on its new CPUs.
The new versions are expected to ship with macOS 11.0 Big Sur, this year's upcoming major revision of macOS, also announced during the keynote.
For third-party developers, Apple says that "even the most complex apps" can be converted to run on Apple Silicon within a "few weeks" of developer work.
The firm is currently working with Adobe on converting key Creative Cloud applications for Apple Silicon, and "many of their apps are already up and running great".
The keynote showed Lightroom and Photoshop running natively on the new hardware – in the case of the latter, a 5GB photographic composite with multiple layers, shown in the image above.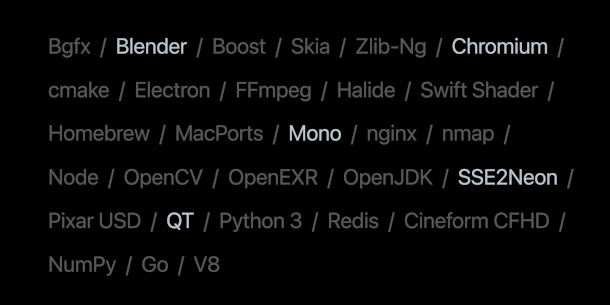 Additional Apple support for key-open source tools like Blender
Apple has now launched a quickstart program to help third-party developers convert their apps before the first Apple Silicon machine is released at the end of this year.
During its developer stream, the firm namechecked open-source software, saying that its engineers were working to support key tools like Blender and the Qt UI framework specified in the VFX Reference Platform.
"We've already done some of the initial work for the most widely used open source projects, and will be publishing patches to them in the next next few days," said Apple VP Andreas Wendker.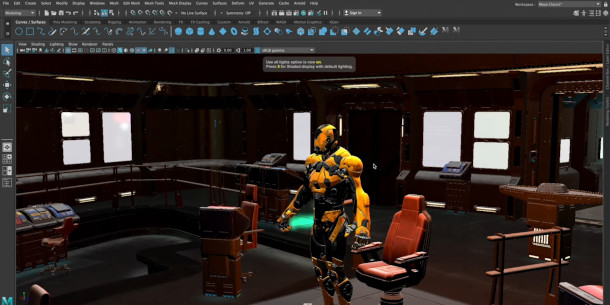 Rosetta emulation system for software not yet running natively, like Maya
For apps that can't be converted before the first Apple Silicon machines are released, Apple has resurrected its Rosetta emulation technology, originally used in the transition from PowerPC to Intel chips.
The firm says that its new Rosetta 2 system, which enables Intel-native apps to run on the new hardware, operates both during app installation and at runtime.
During the keynote, Apple showed the 6-million-poly scene above running in real time with simple textures and shading in the Maya viewport under Rosetta 2 emulation.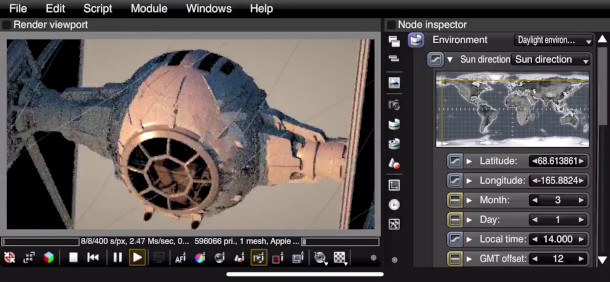 Support for Apple Silicon Macs announced for Unity and Octane X
Outside Apple's own livestreams, Unity Technologies has announced support for compiling Unity projects for Apple Silicon Macs in the upcoming Unity 2020.2, due in beta in "the next few weeks".
Otoy also tweeted a video of Octane X, the upcoming Apple-native edition of its OctaneRender renderer, commenting "Octane X will be fully optimised on day 1 for the new Macs … on Apple SoCs".
However, Octane X is an interesting case, as it's also a reminder that updates to third-party apps caused by Apple's changes in hardware standards don't always happen as quickly as initially predicted.
The new edition, which uses Apple's Metal 2 GPU compute API – Apple having deprecated OpenCL in macOS 10.14 – was announced at WWDC 2019, and was due to ship with last year's new Mac Pros.
Six months later, there is still no official release date, although Octane X has finally moved into beta, and Otoy hints at further announcements this week in the comments on its latest Facebook post.
Pricing and release dates
Apple expects to ship its first Apple Silicon Mac by the end of 2020, although it hasn't said which of its product lines will be first, or given details of prices or system specs.
The firm says that it expects a complete transition to the new hardware to take "about two years", and that it will be supporting older Intel Macs in macOS for "years to come".
macOS 11.0 Big Sur is due to for a public release this fall.
Read more about Apple's announcements from WWDC20 on its developer website
Tags: 3D software, Adobe, AI-based, animation, Apple, Apple Silicon, ARM, ARM-based, autodesk, Blender, CG software, compositing, CPU, emulation, Final Cut Pro, GPU computing, GPU rendering, graphics software, image editing, Intel, iOS, Lightroom, Mac Pro, MacBook Pro, machine learning, macOS 11, macOS 11.0, macOS Big Sur, Maya, neural engine, Octane X, OctaneRender, open source, Otoy, Photoshop, PowerPC, Premiere Pro, price, Qt, release date, Rosetta, Rosetta 2, run iOS app on macOS, SoC, system requirements, Unity, Unity 2020.2, Unity Technologies, VFX Reference Platform, video editing, Worldwide Developers Conference, WWDC, WWDC20