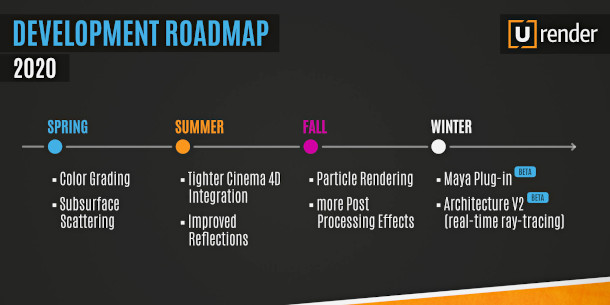 Uppercut broadcast & visual technologies has posted its 2020 product roadmap for U-Render, its physically based 'really real-time' render engine for Cinema 4D.
New features scheduled for the year include support for subsurface scattering, particle rendering and integration within Cinema 4D as a custom render view.
The firm is also working on a new Maya edition of U-Render, which it expects to have in beta this year.
A genuine real-time render engine with good support for Cinema 4D's native features
Originally known as Tachyon Render, U-Render officially launched last year after a period of early access.
It promises genuine real-time rendering – the software is designed more like a game engine than a conventional offline renderer – with good support for Cinema 4D's core features, including MoGraph.
As well as its own PBR materials – it supports specular/glossiness and metallic/roughness workflows – U-Render automatically converts standard Cinema 4D materials.
Updates are released monthly or bi-monthly: there have been five so far this year, most of them bugfix releases, but some with most substantial new features.
Already in U-Render 2020.4: real-time colour correction
Uppercut originally posted the roadmap two weeks ago, so the first feature on it, real-time colour correction, actually shipped in U-Render 2020.04 last week.
The initial release added filters for adjusting the saturation, brightness, contrast and gamma of output, to which Uppercut plans to add curve and histogram adjustments.
According to the firm, full LUT support is also possible, though not yet definite.
Due in U-Render 2020.5: subsurface scattering
The next feature on the list is an initial implementation of subsurface scattering, due out in May.
Uppercut says that it is working on real-time approximations for the scattering of light striking a material both from the front and from behind.
Due this summer: tighter Cinema 4D integration and particle rendering
Further off, Uppercut is working on integrating U-Render into Cinema 4D as its own render view.
Maxon is currently reworking Cinema 4D's vieport – on Macs, it is being ported from OpenGL to Metal, Apple's graphics API – but Uppercut says that it expects to announce developments in June.
The firm is also working on a replacement for OpenGL within U-Render itself, given that the API is now deprecated in macOS, and unlike newer APIs like Vulkan, has no support for real-time ray tracing.
In addition, Uppercut plans to support particle rendering: along with hair, one of the few major Cinema 4D toolsets not currently supported in U-Render.
The new particle rendering system will support both native Cinema 4D particles and those generated by X-Particles – a key add-on for many Cinema users – and should get a preview release in July or August.
Due in beta by the end of the year: new Maya plugin
Uppercut also now plans to release new editions of U-Render for other 3D applications.
The firm is working on a Maya plugin, which it expects to have in beta by the end of the year, but says that it is also considering other applications from both the media and entertainment and AEC markets.
Pricing and availability
U-Render is available for Windows 10 only. The integration plugin is compatible with Cinema 4D R16+. A node-locked licence has an MSRP of €299 (around $330).
Read the U-Render 2020 product roadmap on Uppercut's forum (Registration required)
Tags: 2020, Cinema 4D, color correction, curve adjustment, histogram, LUT, Maya, Metal, new features, OpenGL, particle rendering, particle system, physically based, plugin, price, product roadmap, release date, renderer, roadmap, SSS, subsurface scattering, system requirements, U-Render, U-Render 2020.4, U-Render 2020.5, U-Render for Maya, Uppercut, Uppercut broadcast & visual technologies, viewport renderer, Vulkan, X-Particles