Originally posted on 24 July 2019. Scroll down for news of the Drop 4 update.
Lightmap has released HDR Light Studio Tungsten, the new version of its real-time lighting design tool, adding a versatile new Composites system for combining lights.
The firm has also changed its pricing model for the software, bundling the connection plugins to CAD and DCC tools with the core application, and introducing new Indie and Automotive plans.
Design your own synthetic HDRI-based studio lighting set-ups
Used in a range of industries from automotive and design visualisation to visual effects, HDR Light Studio enables artists to design their own synthetic HDRIs.
These can be created by dragging lights around on a rectangular canvas, or by clicking directly in the render view to position highlights, at least in host applications that support the software's LightPaint system.
LightPaint can also be used to create supplementary area lights inside the host 3D app.
New in Tungsten: Composites create new ways to edit lights, or combine them with HDRIs
To that, the Tungsten release – it's effectively HDR Light Studio 2019.1, Lightmap having switched to codenames for major updates last year – adds a new feature: Composites.
It works a bit like precomps do in After Effects, enabling users to combine separate light sources within the software's light list into a single unified source before generating the final synthetic HDRI.
The operation is non-destructive, and lights may be nested multiple levels deep.
At its simplest, this makes it possible to perform adjustments to several lights at once, or to group related sources to help organise a lighting set-up.
However, the real power of Composites lies in the new workflows they open up for editing lights, or for combining lights with existing HDRIs.
Use cases range from adding hot spots to a synthetic softbox to using an existing HDRI to create gobos for synthetic window lights, and even moving features in a photographic HDRI around at will.
The video above provides a good summary of the possibilities, and this blog post discusses the new workflows in more detail.
The release also extends the software's Add, Multiply and Low Pass blend modes: you can find a full list of changes in the online release notes.
Connection plugins now bundled with the core software, two new rental plans
The other major change is to the pricing model: whereas the connection plugins to CAD and DCC applications were previously sold separately, most of them are now bundled with the core software.
The bundled plugins include all of the connections to DCC tools – 3ds Max, Cinema 4D, Houdini, LightWave, Maxwell Studio, Maya, Modo and OctaneRender Standalone – plus Rhino and SolidWorks Visualize.
That raises the price of a node-locked perpetual licence from $995 to $1,295, although given that the plugins used to start at $145, the total cost will be the same or lower for anyone using at least two.
Lightmap has also introduced two new, rental-only deals: a $140/year Indie subscription, for users with revenues under $100,000/year, and an Automotive subscription, which starts at $1,495.
The latter provides access to three further connection plugins not included in the standard bundle, DeltaGen, Patchwork 3D and VRED, plus extra support options.
One other change is that perpetual floating licences have been dropped: the only way to get a floating licence is now through one of the subscription plans.

Updated 24 July 2019: Lightmap has released HDR Light Studio Tungsten Drop 2, its latest subscription update. (The original Tungsten release is officially Drop 1, so there's no intervening update.)
The release updates the Cinema 4D and Modo integration plugins, enabling users to see the interactive render view from the host software directly inside HDR Light Studio, and use the LightPaint system within it.
In Modo, this works with the native renderer and OctaneRender; in Cinema 4D, with Arnold, OctaneRender, Redshift and Thea Render. Similar functionality is already available for 3ds Max and Maya.
In a separate change, the Cinema 4D integration also now supports Corona Renderer.
The render view in the core software now supports version 3.4.0 of Embree, Intel's open-source CPU ray tracing kernels, making performance "up to 40% faster".

Updated 15 December 2019: HDR Light Studio Tungsten Drop 3 is now available.
It's a smaller update, adding the option to undock and float user interface panels, and reducing start-up times by building a cache of thumbnail images for presets the first time that Drop 3 runs.
Lightmap has also added support for V-Ray, Octane and RenderMan to the Houdini plugin, adding to the existing support for Redshift, Arnold and Houdini's native Mantra renderer.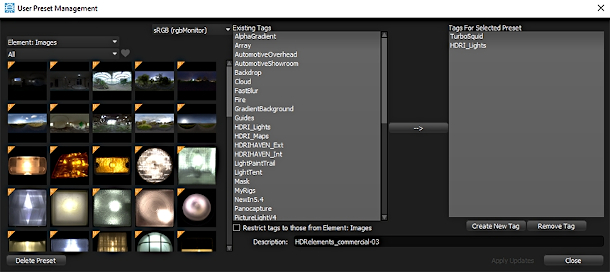 Updated 3 April 2020: Lightmap has released HDR Light Studio Tungsten Drop 4, expanding the software's lighting Presets system.
Users can edit the tags and descriptions for their own custom presets, or assign presets to a set of Favorites.
There are also a number of workflow improvements, including a keyboard shortcut to toggle the Area Light property, and a one-click workflow for updating scene lights from a preset.
Pricing and availability
HDR Light Studio Tungsten Drop 4 is available for Windows 7+, macOS 10.12+ and various Linux distros.
Connection plugins are available for a range of common DCC and CAD tools: you can see a table of versions supported and HDR Light Studio features available here.
The new pricing options are discussed in the story above. You can find a comparison table of the different perpetual licence and rental options on Lightmap's website.

Read more about the new features in HDR Light Studio on Lightmap's blog
Read a full list of new features in HDR Light Studio Tungsten in the online changelog
Tags: 3ds max, Arnold, blend modes, Cinema 4D, combine light sources, Composites, Corona Renderer, DeltaGen, Drop 2, Drop 3, Drop 4, edit HDRI, Embree, group lights, HDR Light Studio, HDR Light Studio Tungsten, HDRI, Houdini, lighting design, Lightmap, LightWave, Maxwell, Maya, modo, new features, OctaneRender, Patchwork 3D, plugin, presets, price, ray tracing, Redshift, Solidworks, synthetic HDRI, system requirements, Thea Render, undock interface panel, VRED