Tuesday, March 24th, 2020

Posted by Jim Thacker
Download Nvidia's free Texture Tools Exporter 2020.1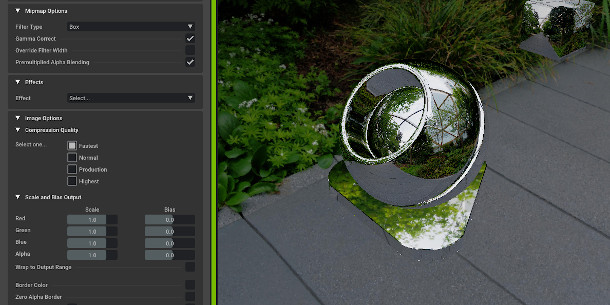 Nvidia has released Texture Tools Exporter 2020.1, the latest version of its suite of free texture tools intended for generating compressed textures suitable for use in games or real-time apps.
The update adds a new UI with a real-time 3D preview, improved GPU-accelerated compression on Nvidia GPUs, and automated batch processing in both the standalone tool and Photoshop plugin.
Free tools for compressing textures and generating mipmaps, normal maps and cubemaps
Aimed at game artists and users working on real-time applications, Texture Tools Exporter is a suite of four separate tools, provided as a single Photoshop plugin, and as a standalone application.
Its main use is texture compression: Nvidia says that it can compress textures to a third of their original size.
However, the software can also generate normal maps from photographic images, create premultiplied alphas for textures with transparent backgrounds, and generate cubemaps from 2D images.
Texture maps can be exported in a range of standard formats: primarily as DDS files, but the JPG, PNG, TIFF, BMP and OpenEXR formats are also suppprted.
New in 2020.1: new real-time compression preview, support for batch processing
Texture Tools Exporter 2020.1 gives the software a new unified interface, including a new compression preview pane, providing a real-time preview of the compressed texture being applied to a 3D asset.
Users can also now batch process textures, both by creating Photoshop Actions and via the command line.
Under the hood, the release adds support for what Nvidia describes as "CUDA-accelerated Texture Tools 3.0 compression", which should accelerate the compression process on compatible Nvidia GPUs.
In addition, mipmapping now processes images in linear colour space, and supports premultiplied alphas, while normal maps use slope-space filtering to "correctly filter height map features".
New compression formats supported include BC7 and ASTC for textures with transparency, BC6s for HDR images and cube maps, and BC7, BC5 and BC3n for normal maps.
System requirements and availability
Texture Tools Exporter 2020.1 is available as a free standalone application for 64-bit Windows 7+ and as a free plugin for Photoshop CC running on Windows only. Legacy versions are available for Photoshop 5.0+.
Source code is available on GitHub under an MIT licence, although at the time of posting, it doesn't seem to have been updated.

Read more about the new features in Texture Tools Exporter 2020.1 on Nvidia's developer blog
Download Nvidia's free Texture Tools Exporter 2020.1
(Requires registration for a free account)