Wednesday, June 5th, 2019

Posted by Jim Thacker
Chaos Group ships V-Ray Next for 3ds Max Update 2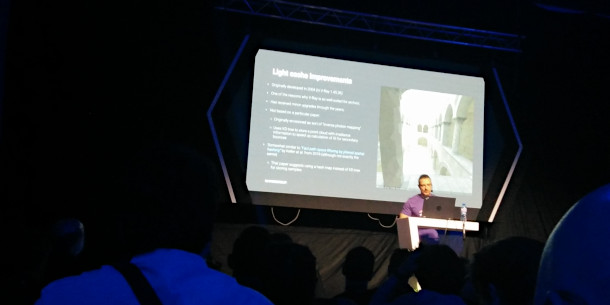 Chaos Group CTO Vlado Koylazov runs through the new features in the upcoming V-Ray Next for 3ds Max Update 2 at the firm's Total Chaos user event. Poor photo quality due to low light levels and shaky hands.

Originally posted on 18 May 2019. Scroll down for news of the commercial release.
Chaos Group has previewed V-Ray Next for 3ds Max Update 2, the next update to the 3ds Max edition of the renderer, at its Total Chaos 2019 user event.
The update, which is due in the next few weeks, improves handling of scenes with very large numbers of light sources, updates the light cache system to reduce flickering in animations, and extends V-Ray GPU.
There is also a new memory tracking system to help users debug complex scenes, and a new toon shader.

Better handling of scenes with very high numbers of lights
One key feature of the update is improved handling of scenes with very large numbers of lights: something that Chaos Group says has been becoming increasingly common in production.
"With V-Ray 3 we added the adaptive lights algorithm, and the result was that people started adding more and more lights," said CTO Vlado Koylazov. "One scene I looked at lately had 5,000 lights."
When introduced, adaptive lights could only be used for final rendering, and could not be used for pure brute force (BF + BF) rendering.
The new implementation resolves both issues, and should both improve performance and reduce flickering when rendering animation.
Previously, V-Ray evaluated a uniform random selection of light sources without taking into account how each one contributed to the illumination in the scene.
The new implementation organises lights into a hierarchy Chaos Group describes as the 'light tree', classifying light sources as infinite – for example, the sun or dome lights – or finite.
V-Ray now evaluates all of the infinite lights in the scene, plus one or more finite sources, considering only basic positional information rather than properties like power and orientation.
The result is roughly a 2x speed boost: an Evermotion scene shown in the Total Chaos session evaluated in 42 seconds in Update 2, down from 110 seconds in previous releases.
The new implementation is fully automatic, and requires no user input.
First major overhaul of the light cache since V-Ray 1.45
There are also improvements to a number of existing features: notably, the light cache, which gets its first major overhaul since it was first introduced in 2004.
The original implementation stored a point cloud of lighting samples as a k-d tree, replaced in Update 2 by a hash map.
The new system should reduce flicker when rendering animations, as sampling points do not move around in 3D space, and is described as "more GPU-friendly".
Users can switch between the hash map and the legacy system when rendering on the CPU; when rendering on the GPU, the hash map is now the only method supported.
New memory tracking system helps troubleshoot complex scenes
Another key addition is the new memory tracking system, recently added in V-Ray Next for Maya Update 1.
It enables users to troubleshoot complex scenes, providing a report of peak memory usage both for individual scene assets and asset types like geometry, lights, GI and bitmap textures.
The information can be viewed in the V-Ray message log, or exported as JSON or HTML reports.
Further updates to V-Ray GPU
The update also further extends V-Ray GPU, V-Ray Next's new GPU rendering architecture, adding support for the V-Ray alSurface material, and the distance and curvature textures.
Support for deep output "may also make it" into the final release.
The update also moves the engine to kernel3, the next version of its core architecture, laying the foundation for out-of-core rendering: not supported in Update 2, but coming "a few months down the road".
When it arrives, out-of-core support will make it possible to render scenes too large to fit into available GPU memory, without the resulting hit to performance.
New features from V-Ray Next for Maya, including the new toon shader
Other changes include support for debug shading in the IPR – something already possible in V-Ray Next for Maya – and a new toon shader: again, presumably similar to Maya's VRayToonMtl.
There are also workflow improvements to the VFB and lens effects; and reduced memory usage for the Adaptive Dome Light when using displacement.
The release also fixes a long-standing issue with bump mapping, where small but strong bump maps would generate unrealistically hard transitions from light to shadow areas in renders.

Updated 5 June 2019: V-Ray Next for 3ds Max Update 2 is now shipping.
As well as the features covered above, changes include new procedural dust and scratches lens effects and the option to apply frame buffer colour corrections directly in the V-Ray IPR.
Chaos Group has also posted videos of the new toon shader, Debug Shading and GPU support for VRayDistanceTex.
Pricing and system requirements
V-Ray Next for 3ds Max Update 2 is available for 64-bit 3ds Max 2013+, running on Windows 7+. A workstation licence and one render node now costs $1,180. Rental starts at $470/year.
Read an overview of the new features in V-Ray Next for 3ds Max Update 2 on the product website