Friday, May 11th, 2018

Posted by Jim Thacker
Esri ships CityEngine 2018.0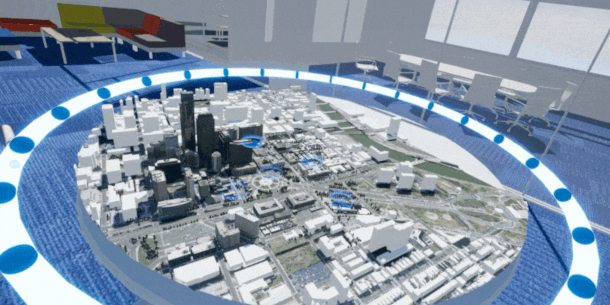 Esri has released CityEngine 2018.0, the latest version of the procedural 3D city-generation software, strengthening its integration with Epic Games' Unreal Studio toolset for creating real-time visualisations.
Other changes include a new option to append models to curved geometry according to UV coordinates, and a view-based quantitative visibility assessment system for use in urban planning.
A powerful procedural tool for generating 3D city models for urban planning and VFX
CityEngine generates detailed city models from simple procedural rules, importing and exporting data in standard file formats, including OBJ, 3DS and DXF.
Although more focused on architects and urban planners, the software was also designed with entertainment use in mind, and comes with free Maya and Unity plugins, as well as exporting data in Alembic format.
In recent years, it has been used on some high-profile visual effects projects: Scanline VFX used it for the city-destruction shots in Independence Day: Resurgence, as shown in this 2016 Gnomon talk.
Greater integration with Unreal Studio for real-time visualisation
To that, CityEngine 2018.0 adds virtual reality as a use case, with a newly updated exporter and scene template intended for visualisation of CityEngine data within Epic Games' new Unreal Studio platform.
As with Unreal Studio itself, the exporter is still officially in beta; and Esri says that a second template, aimed at urban planners hoping to create VR presentations for the HTC Vive, will follow.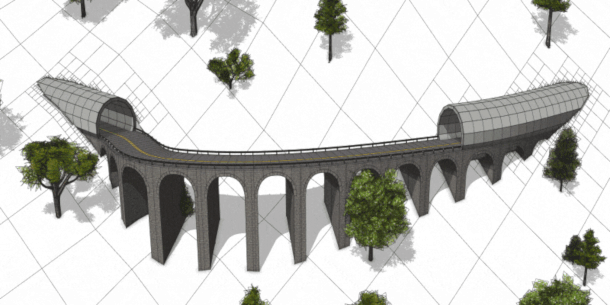 New options for generating geometry along curves
New features within the CGA (Computer Generated Architecture) 'shape grammar' underpinning CityEngine include a new insertAlongUV operation for generating geometric detail according to texture co-ordinates.
The operation enables users to wrap 3D models – for example, arches or railings – across the surface of geometry, even where that geometry is curved: something difficult in previous releases.
Other changes to CGA include a new assetNamingInfo function for returning group or material names for an asset, and intended to help generate component variations.
Updates to the Visibility Tools, terrain export and integration with ArcGIS Online
The Visibility Tools introduced in CityEngine 2017.1 have also been extended, with the Viewshed and View Dome tools getting a new Statistics section.
The data generated enables urban planners to quantify how much of another building or landscape feature will be visible from another point in a scene, for use in assessment valuation models.
UI and workflow updates include the option to create more than six Viewsheds per Analyses Layer.
Other changes include greater integration with Esri's ArcGIS Online platform, supprt for exporting terrain data in GeoTIFF format, and the usual list of smaller features and bugfixes.
Pricing and availability
CityEngine 2018.0 is available for 64-bit Windows 7+, Windows Server 2008+, RHEL 7.4 Linux and macOS 10.12+. You can find an unofficial link plugin for Maya and an open-source plugin for Houdini on GitHub.
The software is priced on enquiry, but in previous releases, the Basic version cost $500, while the Advanced edition, which adds Python scripting and FBX, RIB and Alembic export, cost $4,000.

Read a full list of new features in CityEngine 2018.0 in the online changelog