Originally posted on 9 October 2017. Scroll down for news of the final release.
Nukeygara has announced the official release of Akeytsu, its next-gen rigging and animation software, following over two years in beta.
The software, which will ship on 25 October 2017, features a flamboyantly non-standard user interface, and what Nukeygara describes as "several time-saving industry-first tools".
A rigging and animation tool designed by artists, for artists
From the earliest demo, back in 2014, what marked out Akeytsu as something out of the ordinary was its claim to rethink the rigging process for artists, not engineers.
The design was born out of Nukeygara's founders' own experiences working in games: CEO Aurélien Charrier worked at Eden Games for a decade, including four years as lead animator on Alone in the Dark.
"As a lead animator, I was constantly bothered by the heavy and complex 3D tools needed for rigging and animation," he said. "So we started rethinking [them] to make them simple, intuitive and more productive."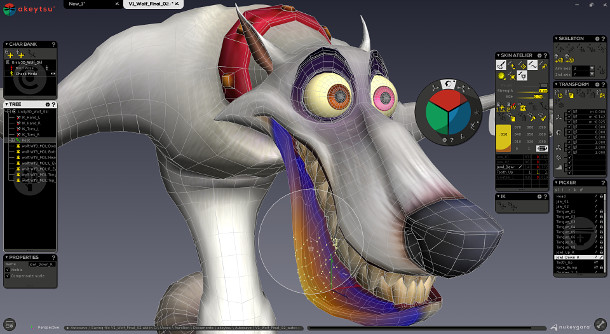 Designed for a single-screen workflow
The first thing that becomes apparent on viewing demos of Akeytsu is how uncoventional the interface is.
Although its graphic design style divides opinion, the layout – a full-screen viewport with a set of floating palettes – has the benefit of displaying the character being rigged as large as possible.
Charrier describes this structure, which is intended to remove the need to use a second monitor to display the UI controls, as providing "the great comfort of working on one screen".
Rigging: pose the skinned mesh directly, using a single FK/IK skeleton
As a dedicated rigging tool, workflow in Akeytsu begins with importing characters modelled in other DCC applications – during the beta period, Blender, Maya and 3ds Max were the "big three" – in FBX format.
Skinning is a two-step process, with an initial phase working on the character in a T-pose to check the default weights assigned, then a more detailed smooth skinning phase.
The software dispenses with conventional in-viewport rig controls, with users clicking directly on the skinned mesh to pose the character: an approach Charrier describes as "extraordinarily easy and fast".
A large circular 'Spinner' – its size is designed to keep it constantly in your peripheral vision so that you don't have to look at it directly while animating – switches between transform modes.
Nukeygara says that the workflow is intended to minimise the time lost in constantly adjusting the camera view when working in more conventional animation software.
Another interesting feature is the IK-FK solver: rather than using separate skeletons for forward and inverse kinematics, Akeytsu has a single default skeleton that can be manipulated in either FK or IK mode.
Although primarily geared to bipeds, the software supports other rig types, including quadrupeds and fish.
Unconventional toolsets speed up animation workflow
Animation workflow is similarly unconventional – and again, designed to work on a single monitor, with the Curveboard, Akeytsu's graph editor, being integrated directly into the viewport.
(It works best when animating a character in isolation: while you can import background geometry, it can result in curves appearing behind the environment, so as a workaround, Akeytsu also has a windowed view.)
Keyframing relies on the Stacker: a toolset derived from a traditional 2D animation exposure sheet, rather than a timeline – something Charrier believes is better for handling clips rather than individual keys.
A separate Cyclemaker window automates the process of generating motion cycles, with the software looping and mirroring as few as four source keyframes to create complete walk and run cycles.
Once created, animated characters can be exported to other DCC software or game engines in FBX format: the software's default skeleton has templates for both Unity and Unreal Engine.

Made with Akeytsu: the beta version of the software has been used in production on a range of commercial projects, including Hyperkinetic Studios' RPG/management sim Epic Tavern, currently in early access.
New in Akeytsu 1.0: automated reverse foot setup, more workflow improvements
New features in the official 1.0 release include an automated reverse foot setup, plus new FBX export options, and updates to the IK-FK solver and animation layers system.
The update also incorporates workflow improvements based on feedback from over 3,000 beta testers: primarily freelancers and indie game developers like Hyperkinetic Studios and Parallel Studio.
Outside of games work, Aketysu has also been used on episodic TV projects; and Nukeygara says that it hopes to see uptake at larger studios now that the software is officially out of beta.
Blendshape-based facial animation and better mocap support planned for future releases
Further off, Charrier says that Nukeygara has a "huge line-up" of features planned for Akeytsu 2.0, including dedicated tools for editing mocap data, and dynamic asset linking.
The firm also aims to introduce support for blendshape-based animation: while it is currently possible to create facial animation in Akeytsu, it relies on a bone-based facial rig.

Updated 25 October: Akeytsu 1.0 is now officially shipping. Nukeygara has also updated its website with more information about the release, and the key features of the software.

Pricing and availability
Akeytsu 1.0 is available for Windows Vista and above. An Indie licence, for artists or studios making under $200,000/year, has an MSRP of $179; a Pro licence has an MSRP of $589.
There is also a non-commercial Learn licence, which is available free to students and teachers at qualifying institutions.

Read a full list of features in Akeytsu 1.0 on Nukeygara's website
Tags: 3ds max, Aketysu, Akeytsu 1.0, Akeytsu 2.0, animation, animation cycle, animation layers, Aurélien Charrier, beta, biped, Blender, blendshape, commercial release, Curveboard, Cyclemaker, dopesheet, early access, educational, exposure sheet, F-Curve editor, facial animation, FBX, FK, free, graph editor, IK, IK solver, Kinematics, Maya, mocap, motion capture, motion cycle, new features, non-commercial, Nukeygara, official release, price, quadruped, release date, reverse foot setup, rig, rigging, run cycle, skeleton, skinning, solver, stacker, Unity, Unreal Engine, walk cycle